Ladybugs, lizards, and goats!
Oh my!
K-1 NEWSLETTER FOR APRIL 17TH 2022
Hooray for the rain– Rain is forecast off and on during this week. Please send you child rain ready! THANKS!
WEEPING WILLOW TREE?- As I begin my planning for our next festival- May Day- I am looking for someone who has access to a weeping willow tree. Not the curly willow but long straight branches. Please let me know if you can help me locate one that I may consciously and carefully harvest some branches from. I do this every year for the festival as we use them to make the children's crowns.
MAY DAY FESTIVAL- COSTUMES- Your child has chosen between a skirt and blouse OR black pants with white button down shirt. I have the skirts/blouses and vests that go with the pants/shirt. If your child chose to wear the pants and shirt please know that I have a few shirts and pants if you need them. Otherwise please start looking in the thrift store now. Remember, no logos or print- just black pants and a white button down. Long or short sleeves are fine. Let me know if you want to borrow anything from me.
MAY DAY HELP- I need a couple of parent to come in on Friday the 6th from 9-10:30 to help with the crown making. Please let me know if you can help! Also, I need a parent who can take the wreath home and spruce it up. It is the piece that goes on top of our maypole. I have the supplies- flowers and greenery. This can be done anytime over the next 2 weeks (the sooner the better). If you have an artsy knack please let me know!
Inch by inch we watched our wheat grass grow!
Thank you! Love,
Miss Malika
HAPPY SPRING!
K-1 NEWSLETTER FOR APRIL 2022
Spring Greetings to you all! I hope this mailing finds you well.
March flew by like a whirlwind! I enjoyed meeting with you during parent/teacher meetings as we wrapped up our 2nd trimester. Spring break was a welcome time for regeneration and integration. The children have returned with fresh excitement and perhaps some Spring fever! With that, we have been spending more time outdoors. Our fairy garden area is coming to life with the help Amy Tanzman Palmer. If you would like to donate some time or flowers please let me know.
Speaking of flowers- A big thank you to Amy (Sidney's mom) for keeping our tables adorned with fresh flowers! The children really love sniffing and admiring them.
WELCOME- We are welcoming a new member to our classroom community. Adelina Casillas has joined us.
TRANSITIONS- It is with joy and sadness that we will be saying good-bye to our dear Mr. Winter. He and his wife will be moving to their new home in Kansas- Yep, he is clicking his heels! This month he will be taking days off to prepare for his journey as Miss Anna steps into the role of our aide for the remainder of the year.
SCIENCE- I am so excited to announce that Stephanie Lennox, our wonderful science teacher, will be working with your children beginning this month. We will be studying the water cycle as an introduction to my Ocean unit! We have been taking a closer look at life cycles too! I hope you enjoyed the life cycle of the oak tree as much as the children did!We just planed our Spring baskets and will be watching and recording the changes we notice over the next couple of weeks.
COMMUNICATION- I so appreciate all the communications that we share. I want you to know that I do not always check email before or during school. Please give me a day notice for important information. You can always contact Carolyn in the office for more immediate communications.
WEEPING WILLOW TREE?- As I begin my planning for our next festival- May Day- I am looking for someone who has access to a weeping willow tree. Not the curly willow but long straight branches. Please let me know if you can help me locate one that I may consciously and carefully harvest some branches from. I do this every year for the festival as we use them to make the children's crowns.
REMINDERS
LUNCH&SNACKS- In keeping with the school policy please keep food choices to- fresh whole foods, high protein choices, no added sugar if possible! I have been noticing an increase in foods that are high in added sugar and food coloring as well as empty calorie snacks. A good rule is to be sure the protein content is higher than the sugar content. Also, the empty calorie snacks can be saved for home. Examples of these are- chips, goldfish, ritz, pirate bootie etc. The foods the children eat during the day directly effect their energy levels both high and low as well as their mental acuity. Thank you for saving your child's favorite treats for home. I am happy to resend the list of ideas for lunches we put together. Just let me know 🙂 I would love your support as I don't really like being the food police.
Also- Please remember to send your child in with a full water bottle each day.
EXTRA CLOTHES- Please be sure your child has an extra set of clothes in a zip lock at school with them every day. Thank You!
Thank you for reading! Love,
Miss Malika
K-1 NEWSLETTER FOR FEBRUARY 21ST, 2022
Greetings Families,
It has been a fun filled February! We started off the month with a mini study of the Lunar New Year celebrations of Eastern Asia and celebrated the season of love complete with a very sweet Valentines Day Tea party. A big thanks to the families who donated tiny sandwiches and fruit ❤️🧡💛💚💙💜
We are finishing up our study of the Temperate Forests and your child will be bringing home their fun fact books. I hope you read them often and keep the learning alive! We are following the signs of spring and busting a move into the garden for some much needed cleaning up and tending.
Tree Rounds– if you or any one you know might be able to donate about 10 tree rounds aprox. 14" high and 10" in diameter we would be most grateful! They need to be cut even on the ends. They will be part of a garden project.
Progress Reports– will be out the week of March 7th.
Take a look at this little video of your children during last Monday morning circle!
Thank you for reading! Love,
Miss Malika
K-1 NEWSLETTER FOR JANUARY 25TH, 2022
These beautiful pieces were based on a lovely winter story titled "Stranger in the Woods"
Your children learned about creating a horizon line,
foreground and for some mid-ground too!

Can you find the stranger in the picture? enlarge to see
We started off the new year with our continued study of Winter and the Temperate Forest. We have also been taking a closer look at the works of master artist Wassily Kandinsky. Check out the photos at the bottom of this letter for our own creations that were inspired by some of Kandinsky's work.
The students have also been enjoying learning about story variants and we are in the middle of an author study of Jann Brett. She loves Winter too and many of the animals we are learning about show up in her stories.
100th Day And Chinese/Vietnamese New Year
Next Tuesday the 2nd is the 100th day of school and the beginning of a 2 week New Year celebration (we will focus on the customs of the Chinese and Vietnamese). If you have anything you would like to share for this please let me know! For the 100th day of school your child will be bringing home a baggie on Thursday with information on what you can help them with. The baggies come back to school on Monday!
Valentines Day
This year we will be celebrating on Monday the 14th. Children will be making a card and gift for their families and if your child wants to, they can make a handmade card for each member of the class. We have 18 students total. It is important that the cards keep in line with our non-commercial/media oriented themes. Please know that your child doesn't have to do this. If they want to make them, start soon and just do a couple a day. We will be having a lovely tea time in celebration of love!
Parent/Teacher Meetings
Conferences are set for Wed. Feb.16 – Wed. Feb.23. There is no school on Monday the 21st.I have set up a scheduling platform on sign up genius for you to use. You will need to submit your name and email and then you can choose a slot. You also need to indicate if you want to meet in person or on zoom. Use this link:
https://www.signupgenius.com/go/10C0C4FA5AB29AAFCCE9-february
Wood-Shop
Did you know that Mr. Winter has been working with student in the wood-shop? They are enjoying this creative process and learning safety skills as well! This is offered 2 days a week and students cycle through.
Play-Dough
Do you have a great recipe for play dough? Will you make us a double batch? Pleeez!
One On One Reading
I am looking for a parent that would like to come in and read with the 3:00er's (1st grade) once a week. It would be between 11:20 and 12. It would be preferable to have someone who is not a parent of one of these students. Please let me know if you would be interested. Thank you-
Thank you for reading! Love,
Miss Malika
Miss Malika's K-1 Newsletter for the New Year
January 2022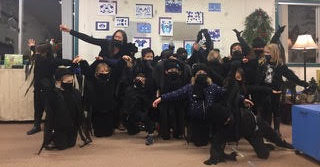 HAPPY NEW YEAR K-1 FAMILIES!
I do hope this email finds you all in good health, well rested and feeling the new energy of this most amazing Winter day of sunshine and the freshness of all new beginnings. I am looking forward to welcoming us all back on Monday!
Festival- I am sure you joined me in being so proud of the children during the festival. They sang! They Flew! They shook those jingle bells through and through!
I also wanted to thank those of you who left off little gifts the evening of the festival. I am so very sorry that I was not able to give you and your child the attention I would have liked too as I was so distracted with all the little details that needed tending to on a big night like our festival night. Thank You 🙂
I would like to welcome a new student to our classroom community. Maya will be joining us on Monday. Your children have already met her and we are so glad to wrap her into our flock!
Reminder- This is a good time to change out any extra clothes and be sure to have them in your child's backpack each day! Also, rain is in the forecast and the yard is muddy so be sure your child has their rain boots each day and rain coat. They have to sit in the office if they are not prepared for the weather. They need your help in remembering these things. Thank you so much as I don't want any child to miss recess and wild time! Better to be prepared 🙂
Happy New Year,
Miss Malika
I trust your Winter gift made it safe into your hands. Your children worked very hard on these and they turned out so magically beautiful! A treasure for a lifetime.
The Evergreen
Miss Malika's K-1 Newsletter

November 2021
Dear K-1 Families,
I am so very happy that we were all together for the Festival. It was such a fun and magical evening. I hope you all enjoyed!
Here in the classroom we will be moving from apples and pumpkins towards the last of the autumn leaves and then onward toward the Winter Solstice. We will be practicing songs and poems in preparation.
We just finished up the first trimester of the school year and I have just about completed my one on one assessments with your children. I will be sending home progress reports the first week of December.
Animal/Letter Friends- We have met all the letter friends of the alphabet as of this past Friday. If your child is missing any just make a little note with the missing letters for me and I will give them to your child. These letters are an important way to bring the learning home. Use them to practice with your child. Ask them how to play flashlight alphabet!
Flowers- I am looking for a family who would like to provide flowers for our classroom this next trimester. Please let me know if you can help!
Miss Anna Much- I would like to introduce you to Miss Anna. She has come into the classroom as a sub a few times now and she brings her love of yoga and Spanish as well as story telling. I am sure your children have shared some of their times with her. They are so excited when she comes. Anna is also a parent of 2 students here at the Village!
Thank You- I want to thank Liliana (Alexander's mom) for gifting each of our class students a mini- sugar skull!
Thank you Stacy (Carter's mom) for keeping our classroom tables supplied with sweet flower bouquets this past trimester.
Also, thank you to Kanoe (Keahi's mom) for the beautiful marigold garland she made for the altar.
Thank you for reading,
Miss Malika
Miss Malika's K-1 News: October 2021
Inch by inch and row by row-
We watch our garden grow!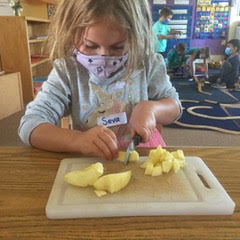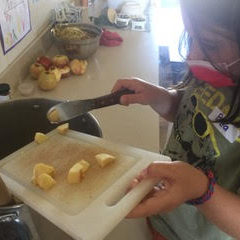 When the trees give us apples, we make ……applesauce and crisp!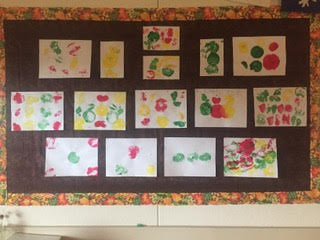 And we use the old apples to make prints!
Sweet Autumn Greetings to K-1 Families,
It was wonderful getting to meet with so many of you for our parent/teacher meetings. Thank you for signing up.
Gardening- The children have spent every Tuesday in the "Fairy Garden" next to our classroom digging, building, shoveling, weeding, raking, dead heading and planting. Our snap pea seeds sprouted in their tiny pots and the children have now transplanted them into the bed. We are watching them stretch their tendrils out to find their climbing support. Invite your child to show you what they have worked so hard on!
Dia de los Muertos: Here at the Village we do not celebrate Halloween. The children do not wear costumes to school. Instead, every other year the school has a festival in honor of Dia de los Muertos, a latin celebration of the ancestors. This year our class will put up an altar in the tradition of Dia de los Muertos (Day of the Dead). I have attached some information for you to read if you are not familiar with it. Las Ofrendas- Throughout Mexico, the altar for the Dead takes great meaning through the offerings that are presented to the deceased relatives (or other family members such as pets) for whom it is dedicated. Please have your children bring in framed photos of "one who has passed" and if you like a little memento of pleasure for that person. For example, perhaps they loved a certain type of flower or food or maybe your old dogs leash or chew toy. Just be sure your child understands the connection. If it was someone your child never met or doesn't remember then it is a wonderful opportunity to tell some stories and help create an image in your child's mind of who this person was. Your child will have the opportunity to share this with the class. We will be building the classroom altar during the week of Nov. 1st. You can plan on bringing in items the week before beginning on Monday the 25th. Your children have been practicing a poem for the evening of the celebration. Nov. 5th beginning at 6:00 P.M. Please plan on having your child arrive dressed, fed and ready to go! See the school bulletin for info. on attire. If you have ANY questions please let me know.
Fairy Garden Items- If you have some "extra" items such as the following please consider donating as we are going to begin building our fairy houses soon.Items made from natural materials only please- shells, seeds, beans, unique or uniform stones, moss, moss covered bark, small drift wood pieces, bones, tiny clay dishes/cups etc., stick furniture and the like. Thank you-
With marigolds and stories told
I honor those who've gone
With lantern lights and sweet delights
'till night invites the dawn
(in gratitude for ALL our ancestors)
Thank you for reading,
Miss Malika
About Miss Malika's K/1 Community
This is an optional 2-year program based on developmental readiness. It is understood and supported that children develop at their own unique rate and not based solely on age. Children here at the village are supported in this process by being allowed to blossom in their own time and not by being pushed to perform before being developmentally ready. It is a gift of time that is so often omitted in education today.
Morning circle is a time when we build social skills through greeting, sharing, listening, taking turns and expressing joy. We also learn valuable language arts skills through the morning message as well as mathematical concepts. The children rotate through 3 morning centers at 20 minutes each. The focus of these guided and unguided lessons vary among language arts, science, math, physical skills, gardening, cooking, and art.
During free choice work time, children are encouraged to work solo or with others doing the things that interest them. This is a very important time of the day. It builds on self-reliance as well as developing intrinsic learning behaviors. Self-motivation and developmental needs are at the core of this activity time. This is also a time that is used for me to work one on one with a child or in small groups.
What is Developmental Age?
A child's developmental age tells where that child is functioning–where their eyes, hands, nervous system, mind, and body are working–as a whole.
Each child is unique. Each has his/her particular rate of development. Children develop different abilities at different rates. A child's development cannot be sped up or hurried. Where a child is, the child's developmental age, should be respected and taken into consideration in what we ask him/her to do.
At each developmental age, a child is ready for certain new skills. When a child is developmentally ready, these skills come easily and the child will enjoy success and build a strong inner confidence without undue stress within the school environment.
What is developmental Readiness?
When a child is developmentally ready, they have the full ability to cope with the school environment; physically, socially, emotionally, as well as academically. They can sustain this without undue stress in the given environment.
plays with blocks, they…
engage their imagination
develop their visual-spatial intelligence
engage in problem solving, planning, and strategizing
build social skills and practice cooperation
plays with clay, they…
are engaged in prewriting development
strengthen the small muscles in their hands and fingers thus building on fine motor development
develop bodily-kinesthetic intelligence
develop eye-hand coordination
participates in song, movement, and dance, they…
develop bodily-kinesthetic intelligence
develop spatial awareness
develop large motor skills
internalize rhythm and pattern
build confidence
develop tonal awareness
A look inside Miss Malika's Class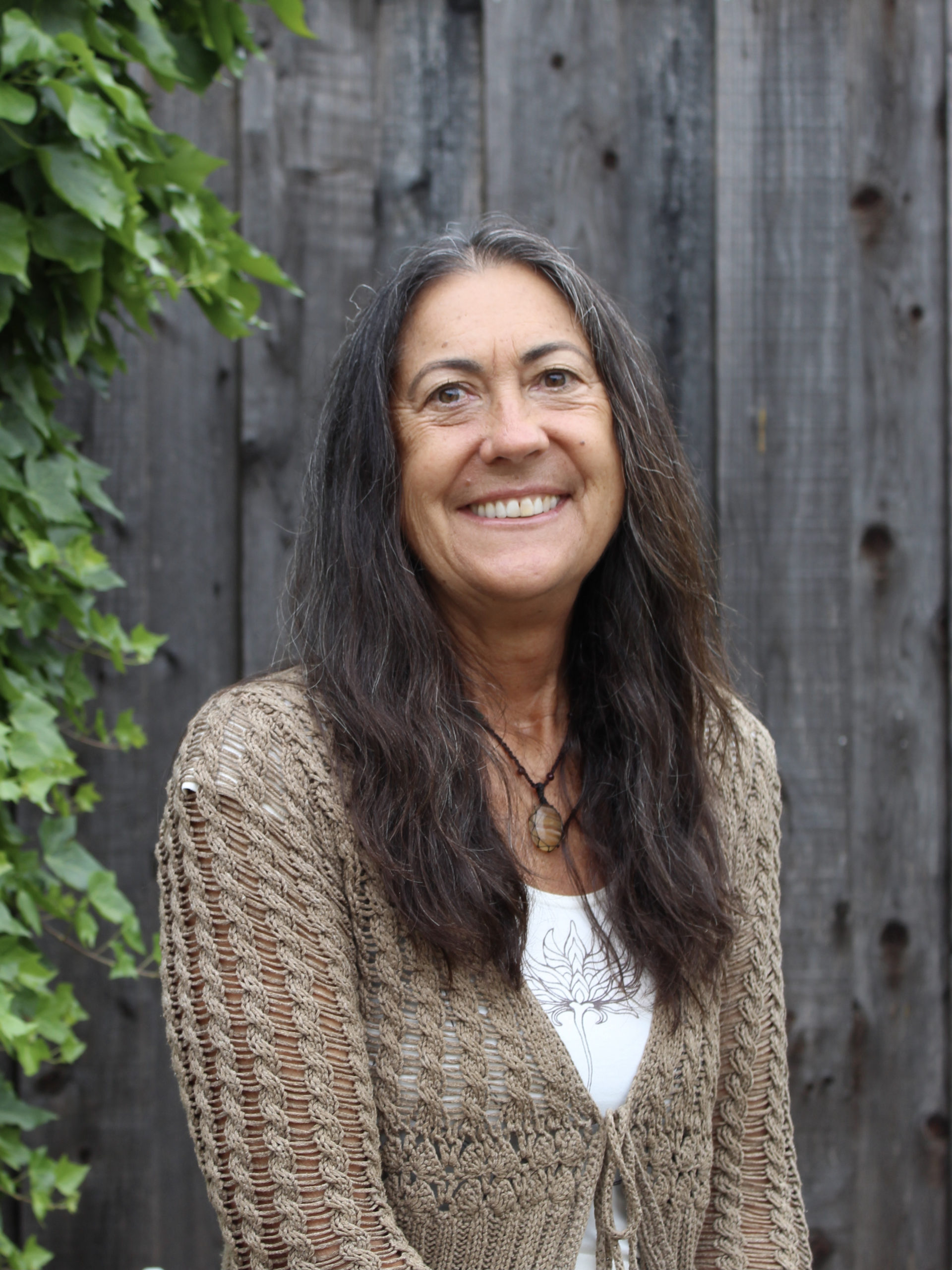 Malika Harville earned her BA in Environmental Education and California Teaching Credential from Sonoma State University. She also has a Multiple Subject California Credential (CLAD with Special emphasis in English and ESL) and is certified in Gesell Institute Developmental Assessments.
Prior to joining VCS in 2002, Malika taught preschool for twelve years and worked for ten years in Montessori education. In recent years Malika has completed additional coursework in developmental growth and readiness.
She is a lover of the outdoors and activities involving the natural world, and enjoys bringing her interests into the classroom to help students explore and nuture their connections as well.