Miss Malika's K-1 Newsletter

November 2021
Dear K-1 Families,
I am so very happy that we were all together for the Festival. It was such a fun and magical evening. I hope you all enjoyed!
Here in the classroom we will be moving from apples and pumpkins towards the last of the autumn leaves and then onward toward the Winter Solstice. We will be practicing songs and poems in preparation.
We just finished up the first trimester of the school year and I have just about completed my one on one assessments with your children. I will be sending home progress reports the first week of December.
Animal/Letter Friends- We have met all the letter friends of the alphabet as of this past Friday. If your child is missing any just make a little note with the missing letters for me and I will give them to your child. These letters are an important way to bring the learning home. Use them to practice with your child. Ask them how to play flashlight alphabet!
Flowers- I am looking for a family who would like to provide flowers for our classroom this next trimester. Please let me know if you can help!
Miss Anna Much- I would like to introduce you to Miss Anna. She has come into the classroom as a sub a few times now and she brings her love of yoga and Spanish as well as story telling. I am sure your children have shared some of their times with her. They are so excited when she comes. Anna is also a parent of 2 students here at the Village!
Thank You- I want to thank Liliana (Alexander's mom) for gifting each of our class students a mini- sugar skull!
Thank you Stacy (Carter's mom) for keeping our classroom tables supplied with sweet flower bouquets this past trimester.
Also, thank you to Kanoe (Keahi's mom) for the beautiful marigold garland she made for the altar.
Thank you for reading,
Miss Malika
Miss Malika's K-1 News: October 2021
Inch by inch and row by row-
We watch our garden grow!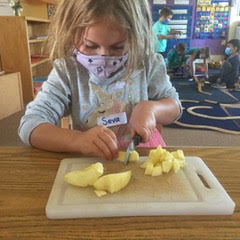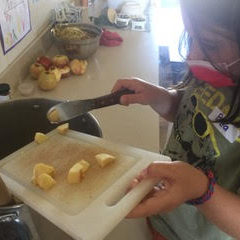 When the trees give us apples, we make ……applesauce and crisp!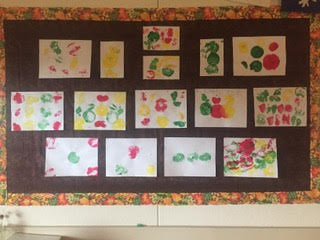 And we use the old apples to make prints!
Sweet Autumn Greetings to K-1 Families,
It was wonderful getting to meet with so many of you for our parent/teacher meetings. Thank you for signing up.
Gardening- The children have spent every Tuesday in the "Fairy Garden" next to our classroom digging, building, shoveling, weeding, raking, dead heading and planting. Our snap pea seeds sprouted in their tiny pots and the children have now transplanted them into the bed. We are watching them stretch their tendrils out to find their climbing support. Invite your child to show you what they have worked so hard on!
Dia de los Muertos: Here at the Village we do not celebrate Halloween. The children do not wear costumes to school. Instead, every other year the school has a festival in honor of Dia de los Muertos, a latin celebration of the ancestors. This year our class will put up an altar in the tradition of Dia de los Muertos (Day of the Dead). I have attached some information for you to read if you are not familiar with it. Las Ofrendas- Throughout Mexico, the altar for the Dead takes great meaning through the offerings that are presented to the deceased relatives (or other family members such as pets) for whom it is dedicated. Please have your children bring in framed photos of "one who has passed" and if you like a little memento of pleasure for that person. For example, perhaps they loved a certain type of flower or food or maybe your old dogs leash or chew toy. Just be sure your child understands the connection. If it was someone your child never met or doesn't remember then it is a wonderful opportunity to tell some stories and help create an image in your child's mind of who this person was. Your child will have the opportunity to share this with the class. We will be building the classroom altar during the week of Nov. 1st. You can plan on bringing in items the week before beginning on Monday the 25th. Your children have been practicing a poem for the evening of the celebration. Nov. 5th beginning at 6:00 P.M. Please plan on having your child arrive dressed, fed and ready to go! See the school bulletin for info. on attire. If you have ANY questions please let me know.
Fairy Garden Items- If you have some "extra" items such as the following please consider donating as we are going to begin building our fairy houses soon.Items made from natural materials only please- shells, seeds, beans, unique or uniform stones, moss, moss covered bark, small drift wood pieces, bones, tiny clay dishes/cups etc., stick furniture and the like. Thank you-
With marigolds and stories told
I honor those who've gone
With lantern lights and sweet delights
'till night invites the dawn
(in gratitude for ALL our ancestors)
Thank you for reading,
Miss Malika
About Miss Malika's K/1 Community
This is an optional 2-year program based on developmental readiness. It is understood and supported that children develop at their own unique rate and not based solely on age. Children here at the village are supported in this process by being allowed to blossom in their own time and not by being pushed to perform before being developmentally ready. It is a gift of time that is so often omitted in education today.
Morning circle is a time when we build social skills through greeting, sharing, listening, taking turns and expressing joy. We also learn valuable language arts skills through the morning message as well as mathematical concepts. The children rotate through 3 morning centers at 20 minutes each. The focus of these guided and unguided lessons vary among language arts, science, math, physical skills, gardening, cooking, and art.
During free choice work time, children are encouraged to work solo or with others doing the things that interest them. This is a very important time of the day. It builds on self-reliance as well as developing intrinsic learning behaviors. Self-motivation and developmental needs are at the core of this activity time. This is also a time that is used for me to work one on one with a child or in small groups.
What is Developmental Age?
A child's developmental age tells where that child is functioning–where their eyes, hands, nervous system, mind, and body are working–as a whole.
Each child is unique. Each has his/her particular rate of development. Children develop different abilities at different rates. A child's development cannot be sped up or hurried. Where a child is, the child's developmental age, should be respected and taken into consideration in what we ask him/her to do.
At each developmental age, a child is ready for certain new skills. When a child is developmentally ready, these skills come easily and the child will enjoy success and build a strong inner confidence without undue stress within the school environment.
What is developmental Readiness?
When a child is developmentally ready, they have the full ability to cope with the school environment; physically, socially, emotionally, as well as academically. They can sustain this without undue stress in the given environment.
plays with blocks, they…
engage their imagination
develop their visual-spatial intelligence
engage in problem solving, planning, and strategizing
build social skills and practice cooperation
plays with clay, they…
are engaged in prewriting development
strengthen the small muscles in their hands and fingers thus building on fine motor development
develop bodily-kinesthetic intelligence
develop eye-hand coordination
participates in song, movement, and dance, they…
develop bodily-kinesthetic intelligence
develop spatial awareness
develop large motor skills
internalize rhythm and pattern
build confidence
develop tonal awareness
A look inside Miss Malika's Class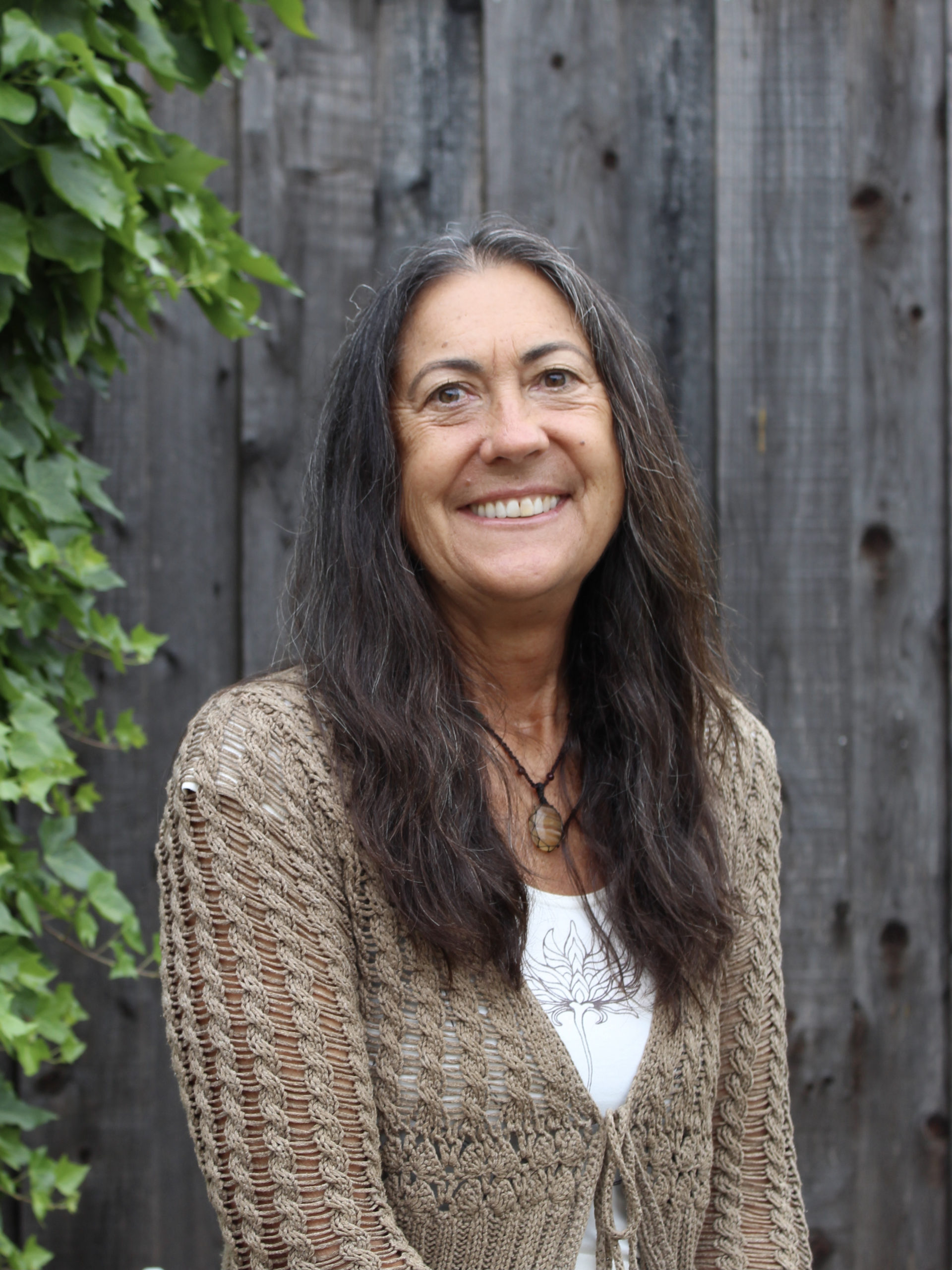 Malika Harville earned her BA in Environmental Education and California Teaching Credential from Sonoma State University. She also has a Multiple Subject California Credential (CLAD with Special emphasis in English and ESL) and is certified in Gesell Institute Developmental Assessments.
Prior to joining VCS in 2002, Malika taught preschool for twelve years and worked for ten years in Montessori education. In recent years Malika has completed additional coursework in developmental growth and readiness.
She is a lover of the outdoors and activities involving the natural world, and enjoys bringing her interests into the classroom to help students explore and nuture their connections as well.