Tuesday News – April 12th


May Day!
We are prepping for our festival, which will be here very soon! Here are a few details:
Day & Time – Friday May 6th, the festival will begin at 5:00
Arrival time is 4:30 in the classroom – this will allow time to get students into their attire and prepare ourselves for our procession onto the field. I would like to request one or two helpers to arrive at about 4:15 to help students into their attire (please reply to this email).
May Day Attire – students have chosen which outfit they would like to wear for the festival. Please ask them to share their choice with you and gather any items that are needed.

We will provide: folklórico skirts, white blouses, black vests, bandanas
These items we do not provide (but please let me know if you need help finding them): black pants, white shirts
Spring Haikus
I am delighted to share the student's springtime haikus they wrote today!
This is the second haiku they have written so far, practicing counting syllables and using adjectives and commas. I'm so proud of their creativity, hard work, and perseverance!
As always, thank you for reading, and please let me know if you have any questions!
*Miss Kristen*
"Hello, sun in my face.
Hello you who made the morning and spread it over the fields…
watch, now, how I start the day in happiness , in kindness"

~Mary Oliver
Tuesday News – March 29th


I hope everyone had a wonderful spring break!
I have heard about some fun activities and adventures, both local and with travel.
Thank you so much to those who tended to our little seeds over the break! They are surviving!

Creek Clean Up Fundraising & Postcards
Postcards – Our class and our buddies had a wonderful adventure the Friday before spring break! We walked to the creek, sat mindfully, and made art! Students illustrated the cover of their postcards of the creek to send to someone for our Creek Clean Up fundraising efforts.
You have homework tomorrow!
Students will be bringing their stamped postcards home tomorrow to send to a friend or family member. Yay, snail mail! Please help your student address the postcard – who it is to, and then the address on the right. Then it is all ready for them to pop it in the mailbox!
Coin Collection – Wow! Our class has raised just over $127 in coins alone!
Students are getting the opportunity to count coins again today by making organized stacks of pennies, dimes, etc to put into coin rollers. Thank you all for helping to gather up that loose change!
Thanks for reading!
*Miss Kristen*
P.S. – We have been learning some amazing things about amazing women in history and current times!!
"Women had always fought for men, and for their children. Now they were ready to fight for their own human rights."

~Emmeline Pankhurst
Tuesday News – March 15th

Progress Reports
Please check your student's homework folder this afternoon for 2nd trimester progress reports!
Please return the envelopes so that we may reuse them!
2nd trimester comments are brief: including an area where students showed growth, and one or two goals.
Feel free to email me with any questions or if you would like ideas about how to support your student in working on their goal.
Creek Clean Up Coin Collection & Money math
So far our class has $62.19 in our collection jar!
Reed, Oliver, and Arthur counted all the change today, and as students bring in change, they will practice counting their coins and add it to the jar. I wonder how much they can collect by Friday?


Money math at Home
These days so many folks pay for things using cards or phones, that families may not have a lot of change lying around the house, or bills in wallets…. but counting money is a helpful and fun way to practice math skills such as skip-counting, making 10 (and 100) and adding on! I encourage you to get some bills and change for students to count or let them practice paying for small items in cash to promote math thinking and number sense.
Friday Sharing, Partner Edition Round 1
Wow, Friday went great! I was so impressed with students' creativity and cooperation! We had an informational display and puppet show, a choreographed dance, and an extensive lego creation. Can't wait to see what's in store this Friday!
Thank you for reading, enjoy spring break next week!
*Miss Kristen*
"Sometimes I tell myself, I may only be planting a tree here, but just imagine what's happening if there are billions of people out there doing something. Just imagine the power of what we can do."
~Wangari Maathai
Upcoming Dates
3/11 – Friday Sharing*, Partner Addition(4 groups)
3/15 – Report Cards Out – look for them in H.W. folders on Tuesday 3/15
3/18 – Friday Sharing*, Partner Addition – 3/18 (3 groups)
Spring Break! March 21 – 25

*Most groups are working on their share here in the classroom together, I have been so impressed with their creativity and cooperation so far!
Science – The Habitat Garden
In science today, students learned about the 4 things animals need to stay ALIVE in their habitat; food, water, shelter, space.
They had the opportunity to create a habitat within the garden for little "mice", making sure they had everything they needed.
Today was the first day for all students at Village to do their part in helping to restore and care for the habitat garden out in the yard beyond our classroom. More details another time!
Sky School Projects
This week students began researching their topics for their sky school presentations! All work is going to be done here in the classroom with me, but if they want to do more research at home they are welcome to do so!
Students will have the opportunity to be the teachers for these topics during their presentations, which will likely happen after spring break.

Mask Mandate Changes
As you have heard, the school mask mandate is changing beginning Monday the 14th. Please check last week's bulletin and the email message from Rebecca sent yesterday for further details.
**Please send me an email if you intend to have your student keep wearing their mask at school so that I may help our classroom and students with this transition**


Thanks for reading,
*Miss Kristen*
"I raise up my voice, not so that I can shout, but so that those without a voice can be heard… we cannot all succeed when half of us are held back"
~Malala Yousefzai
Upcoming Dates
Pajama Day! – This Thursday March 3rd
End of 2nd Trimester – March 3rd
No School Friday March 4th
Friday Sharing – March 11th & 18th (partner/group share, most will be working on them during class time)
Scientists, Discoverers and Problem Solvers
Students wrote this in their gardening journals last week:
"Oh no! The gophers ate our garden! Time to replant."
We have plans to revamp our front garden to make it more gopher resilient, as well as plant some seeds for starts very soon.
Students worked to clean and organize, including gathering up sticks and leaves, weeding, and cutting down the fava beans to add good stuff to the soil in our garden bed.
Pictures below show the fava beans from start (all the way back in September!) to finish…
Life Skill of the Month: Cooperation
Students acted out some awesome skits showing both what not to do AND good cooperation today! We'll be continuing to discuss this life skill, which encompasses so many others (flexibility, communication, friendship), as well as participate in cooperation themed activities with our buddies.
Thanks for reading,
*Miss Kristen*
"Find the good. It's all around you. Find it.
Showcase it and you will start believing it."
~Jesse Owens
Tuesday News – February 22nd

Upcoming Dates
Thursday March 3rd – Pajama Day (end of 2nd Trimester)
Friday March 4th – No School
March 11th & 18th – PARTNER Friday Sharing
Book Review, Round 2!
No spelling words this week! Instead, they have another book review.
Students have until Friday to read and fill out their review.
You may help and take dictation as needed.Short books or a chapter of a chapter book are welcome.
Scientists, Discoverers and Problem Solvers
What a great time in science with Stephanie today!
Students learned about Teasel, an invasive species growing and taking over right in our backyard.
They discovered that they drop their seeds everywhere, choking out the desirable native growth. They then got to help solve this problem by helping to clear it away, making sure the seeds from the seed heads ended up in the buckets and not on the ground, and creating new habitats for local critters with the teasel sticks.
Sneak Peek – Class Play

You may or may not have heard about our upcoming class play…. it's true, it's on the horizon. It will be a silly set of scenes inspired by a long-running classroom inside joke from the very beginning of the year.
Our plan is to begin working on the play after we return from spring break. All we have now is a cast of characters.
I'm telling you all this now because I've heard some students talking about their costumes. I'm so glad they're excited, but rest assured, you do not need to be thinking about costumes right now! I'll keep you updated with details and any requests for help with costumes, etc in a couple months.

Thank you for reading.
*Miss Kristen*
"I think its so vitally important that all people in this world are involved in the process of discovery"
~Mae Jemison
Tuesday News – February 15th
Valentine Verses
We have been studying rhyming patterns in poetry, and students have written two of their own poems so far, including ones following the "ABCB" pattern (a la "Roses are Red"). Check out their poems below, inspired by something they love!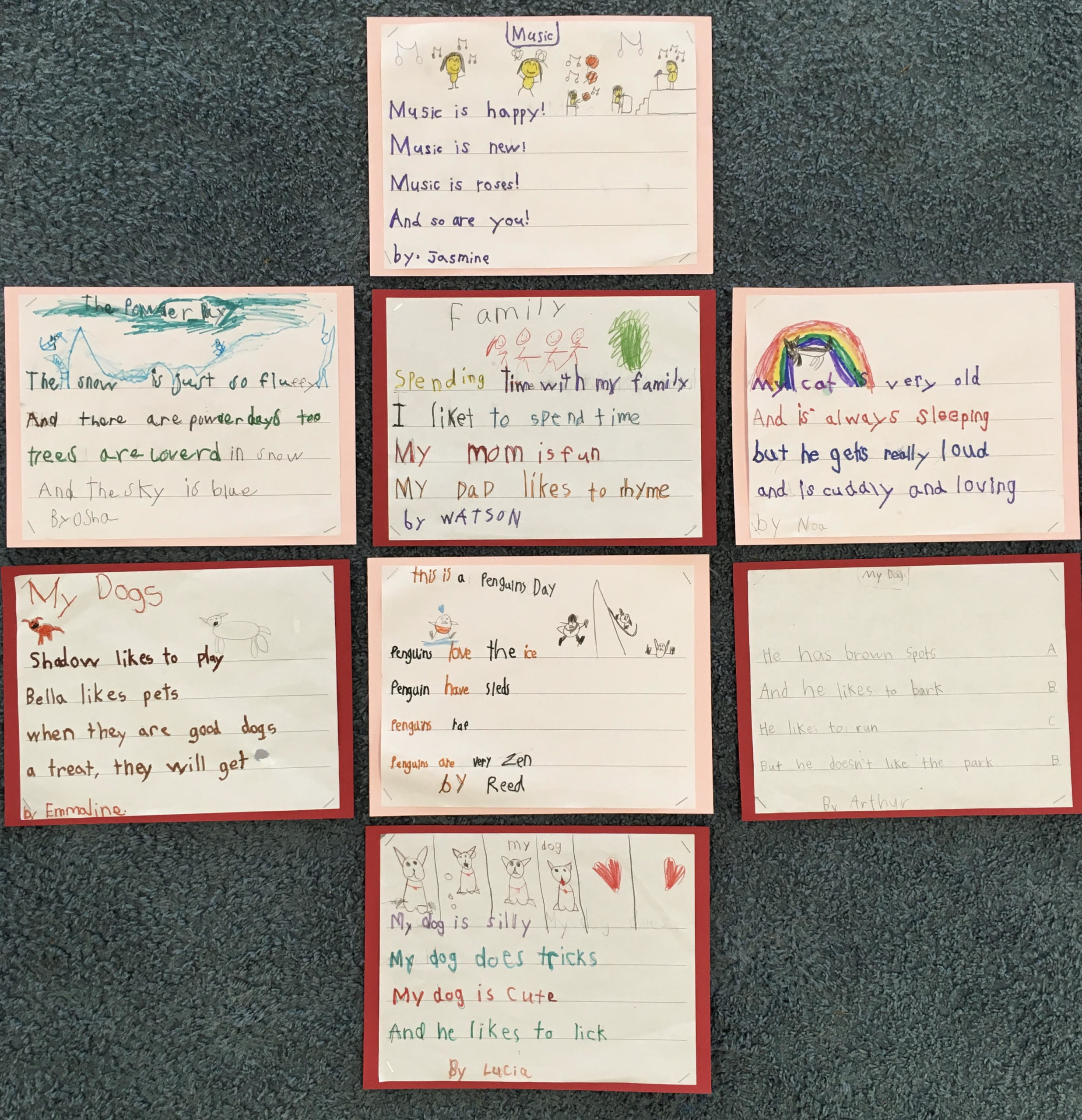 Conferences

Reminder, Conferences begin tomorrow. If you need to sign up or change your day you can do so HERE.
Looking forward to talking with you!
*Miss Kristen*
"If you have only one smile in you, give it to the people you love"
~Maya Angelou
Tuesday News – February 8th
Winter's Come and Gone, Here Comes the Sun Again
(ask your child for the significance of this heading!)
Even though the weather has been absolutely beautiful, we are still wishing for more rain! But in the meantime, we have gotten to be outside in the warmth this week so far to make some observations in the name of art and science…


Art
We have been exploring mixed-media and collage. This week we are combining paint with paper, crayon, and watercolor. Students made "windows" to add texture and context to their sketches.
Science
Science Stars with Stephanie continues this week! Today we took a walk out by the vernal pools to record our observations.
Lunar New Year
Thank you to Oliver's Mom for sharing some fun, facts, and stories about Chinese Lunar New Year! Kiddos had a blast doing a lion dance and making those paper dragons dance.
Valentine's Day
Our class will be celebrating Valentines Day on Monday here in the classroom. We will have a surprise special center in the morning and will hand out Valentines at the end of the day. If your student is making valentines at home, they can bring them to school anytime between now and Monday! 💜💙❤️
Thank you for reading,
*Miss Kristen*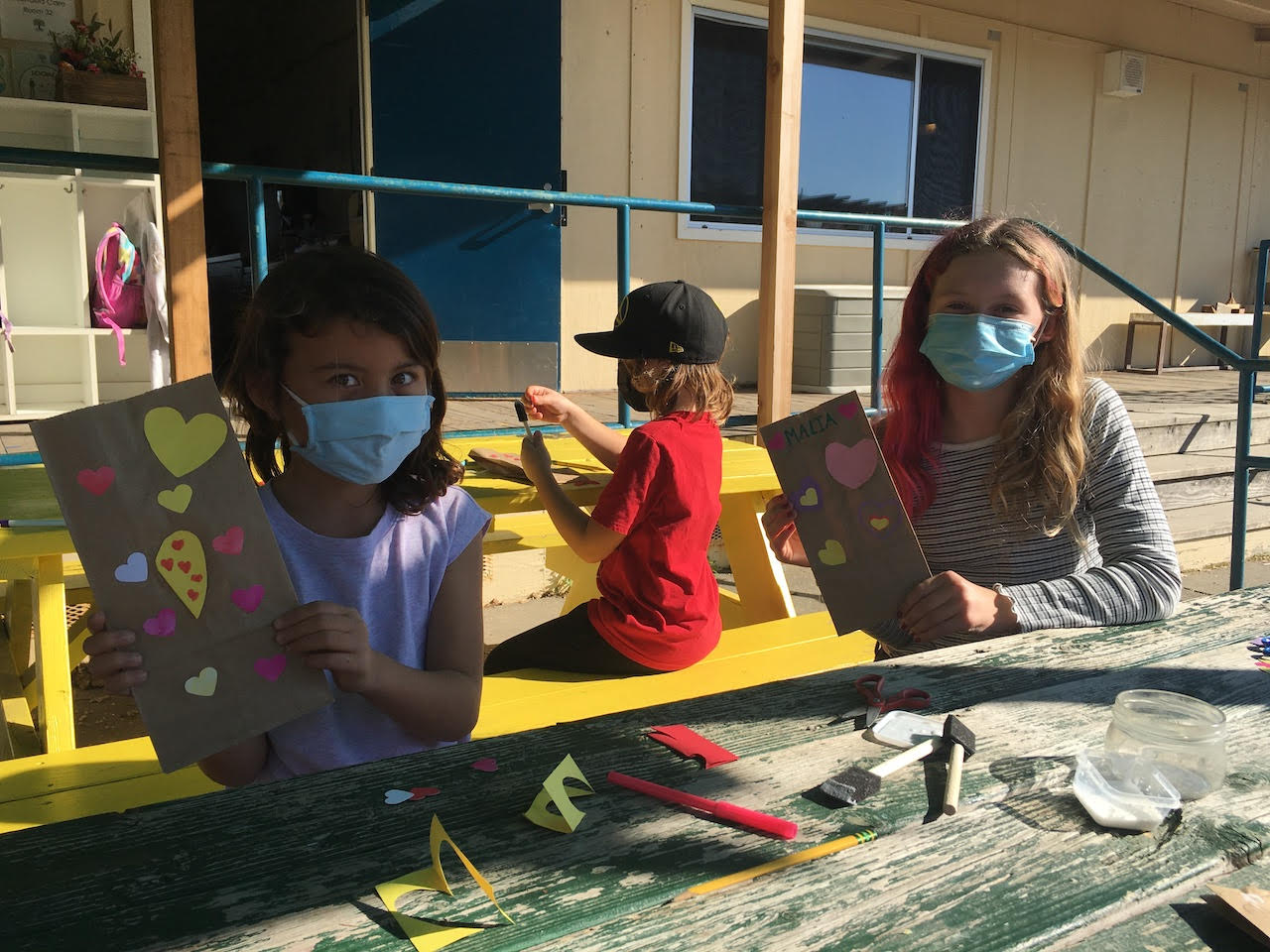 "Love is something if you give it away,
You end up having more"
~Malvina Reynolds*

*P.S. – Miss Malika sings this song with her class every year, it sure is a sweet one. 🙂
Tuesday News – February 1st
Today was our 100th Day of School!
Levi, Arthur, and Sonny created our center piece yesterday in honor of today being our hundredth day of school. Only 82 more days to go!
Students also had the opportunity to make some art using 100 carefully counted out little triangle doo-dads.
Meadow and Noa made 10 piles of 10, Lucia counted hers by making 20 piles of 5.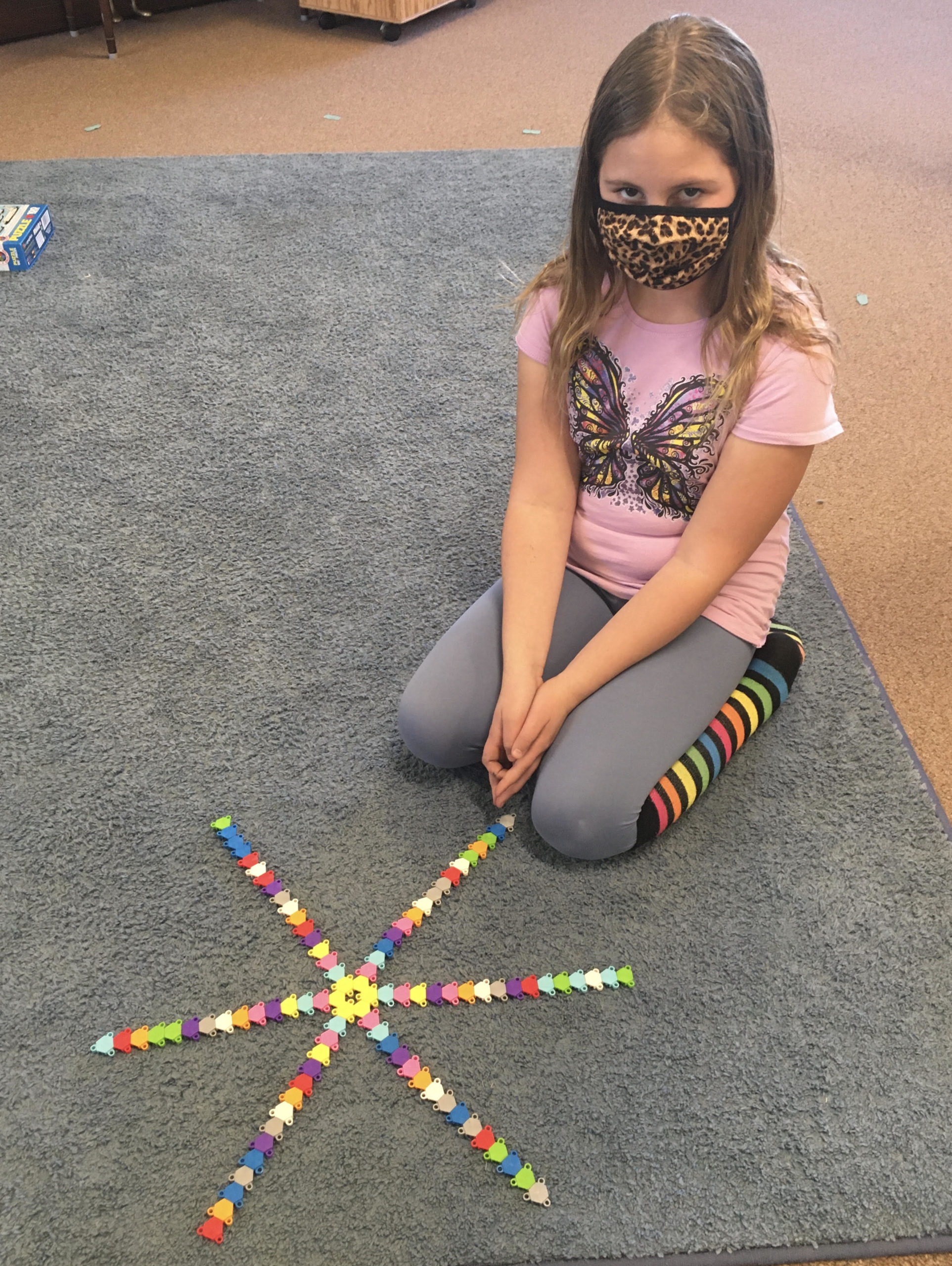 Conferences
Here is the link to the Conference Sign-Up page: CONFERENCES
There are still slots on February 16th, 17th, 18th, and 22nd.
I will likely be adding Saturday the 19th as an option (I will be here anyway doing some cleaning and organizing!). Send me a quick response if you'd be interested in this day.
*Miss Kristen*
Wishing you and your family a Happy Lunar New Year. May the New Year bring you lots of happiness and prosperity. May your hearts be filled with lots of love, happiness, and contentment as you welcome this new year.
Tuesday News – January 25th
Reminder: No school this Friday
Conferences
I look forward to talking with you during our upcoming conferences!
They are scheduled for February 16th – 23rd:
School ends at 1:15 on each of these days

Conferences will be held in person unless you specify a preference for Zoom in the sign-up comments

Click here to sign up

, and email me if none of these days/times work.
Valentines Day
As most of you know, our school celebrates Valentine's day in a way that encourages autonomy and creativity.
Please no store-bought Valentines or anything with media/characters

Any handmade Valentines for classmates are OPTIONAL

If students choose to make Valentines, they can bring them in on Monday 2/14 or the week prior and I will hold onto them until it's time to pass them out.

I will provide a list of student names inside students' Homework Folders tomorrow.



Thanks for reading! See below for some recess shenanigans!
*Miss Kristen*
"Let us make a special effort to stop communicating with each other,
so we can have some conversation"

~Mark Twain
Tuesday News – January 18th
Hello all, hope you enjoyed the weekend… did ya see that beautiful full moon yesterday?
Book Review (this week's homework)

Students have a page in the folders that is new and requires some explanation. Here's what you need to know:
Students have all week to complete it – it is not due until friday
No spelling words this week, instead I'm encouraging everyone to READ!
Reading might look different for every student; reading a book or chapter book in their own, reading along with someone, being read to (ie: some families are reading books/chapter books together)
For a short book, students can read the book then begin to fill out the details on the book review. For a chapter book, the review can be written about one or two chapters.
Students should fill out the front side on their own (with support). Adults you may take dictation for the back side if needed.
I will be giving these periodically for the rest of the year, please let me know if you have any questions.
Poetry Time!
We have been exploring more poetry lately, discussing rhyming patterns and creating some short poems individually and in pairs.
Here is one that students have been introduced to, but it is a bit longer than our poems so far and we will be practicing more in the weeks ahead.
I invite you to help practice at home!
It has an AABB rhyming pattern:
The Moon
By Robert Louis Stevenson
The moon has a face like the clock in the hall;
She shines on thieves on the garden wall,
On streets and fields and harbour quays,
And birdies asleep in the forks of the trees
The squalling cat and the squeaking mouse,
The howling dog by the door of the house,
The bat that lies in bed at noon,
All love to be out by the light of the moon.
But all of the things that belong to the day
Cuddle to sleep to be out of her way;
And flowers and children close their eyes
Til up in the morning the sun shall rise.
Friday Sharing – Water Group
It's the Waters' share this Friday! If you need to be involved in bringing a share, please let me know ASAP so that we can coordinate timing. Thanks!
"Darkness cannot drive out darkness; only light can do that.
Hate cannot drive out hate; only love can do that"

~Martin Luther King Jr.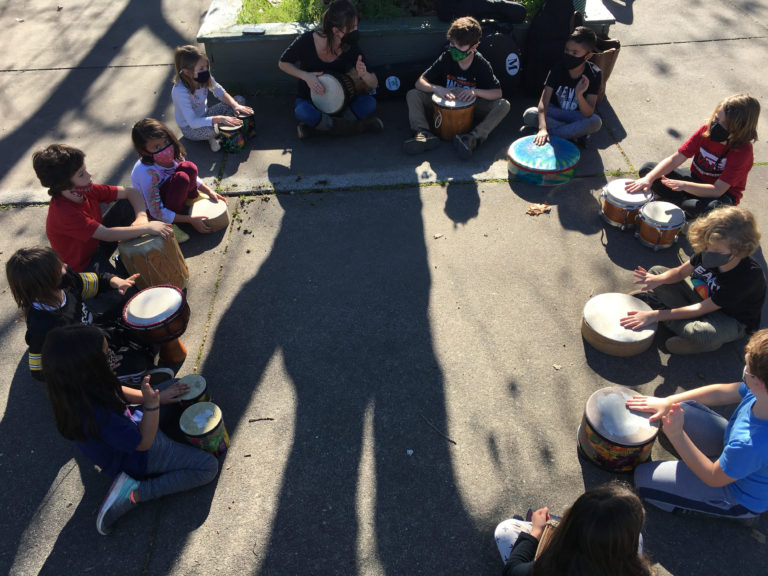 Tuesday News – January 11th
Upcoming Dates
1/14 – Earth group Friday Sharing (see note below)
1/18 – MLK Day – no school
1/21 – Friday Sharing – Water group
1/28 – no school
2/4 – Friday Sharing – Fire group
Celebrating Martin Luther King Jr.

"I have decided to stick with love. Hate is too great a burden to bear." ~MLK
Miss Malika and her 3-o'clockers have invited us to recite a poem for the school with them on Friday. See the poem below, each student has a line with a partner. I invite you to read it with your child at home so that they can practice and memorize their lines (students should know their dreamer number).
If Dreams Were Wishes
Dreamer 1: If dreams were wishes, we would dream of a better world.
Dreamer 2: A world where everyone is treated fairly.
Dreamer 3: A world where everyone shares.
Dreamer 4: A world that is safe.
Dreamer 5: A world that is clean.
Dreamer 6: A world where people respect one another.
Dreamer 7: A world where people live in peace.
Dreamer 8: A world where people are kind to animals.
Dreamer 9: A world without hate.
Dreamer 10: If dreams were wishes, we would keep dreaming…
ALL: …until all our dreams come true!
"Sky School"
Our moon journals and moon observations have inspired us to create "Sky School" (Arthur coined the term!)….
So far we have learned a bit about the sun …
Fun Fact: if one dime's thickness (not the width) is equivalent to one mile, then the sun's distance from earth is like stacking 93 million dimes from here all the way to Montana!


We're learning more about moon phases…
Fun Fact: When the moon is new, it is lined up with the earth and sun, right in the middle. It's right there in the sky, but we never see its face because the sun is shining its light on the other side.

We'll be exploring planets in a few weeks, but these kiddos have already been representing!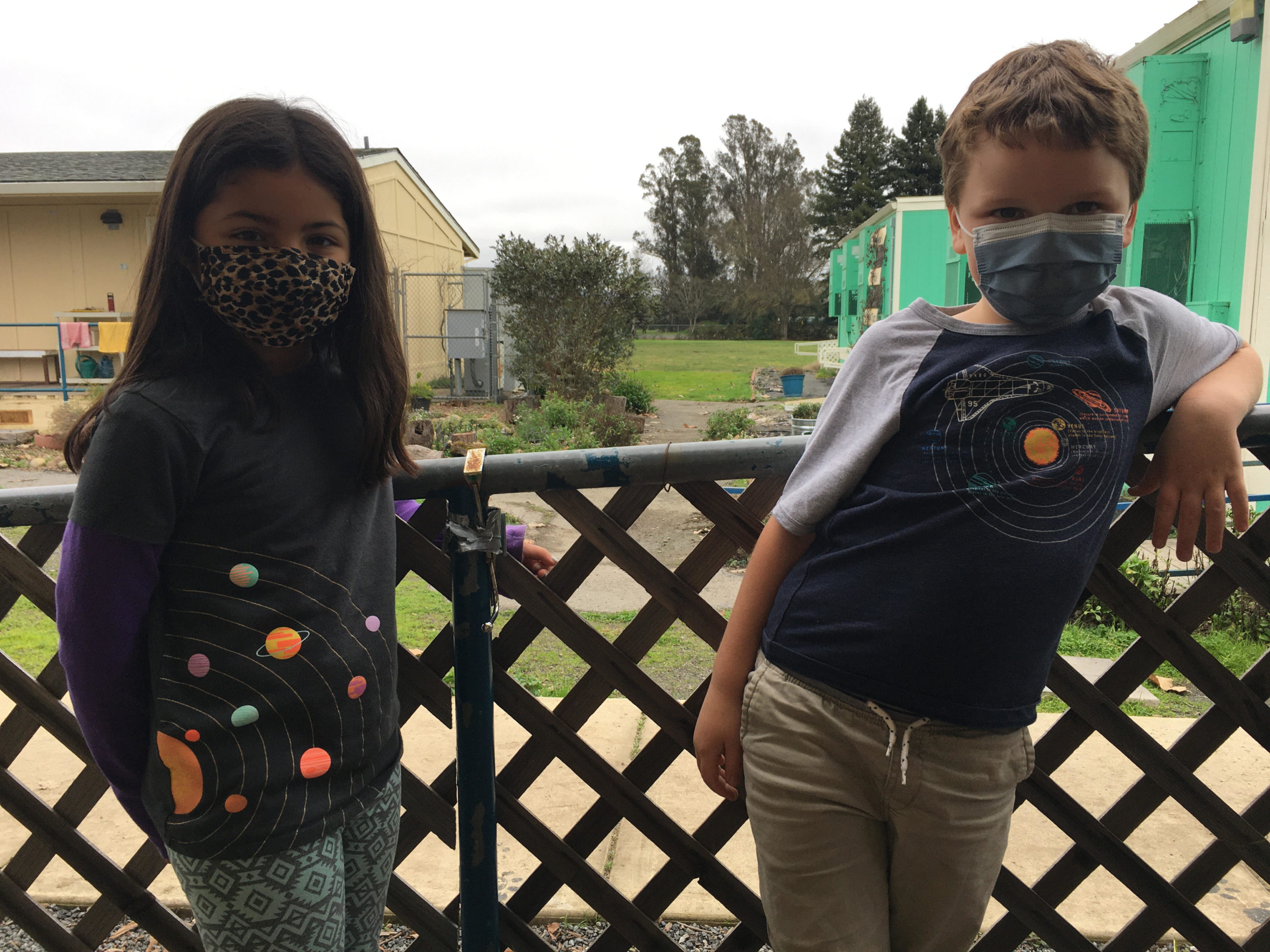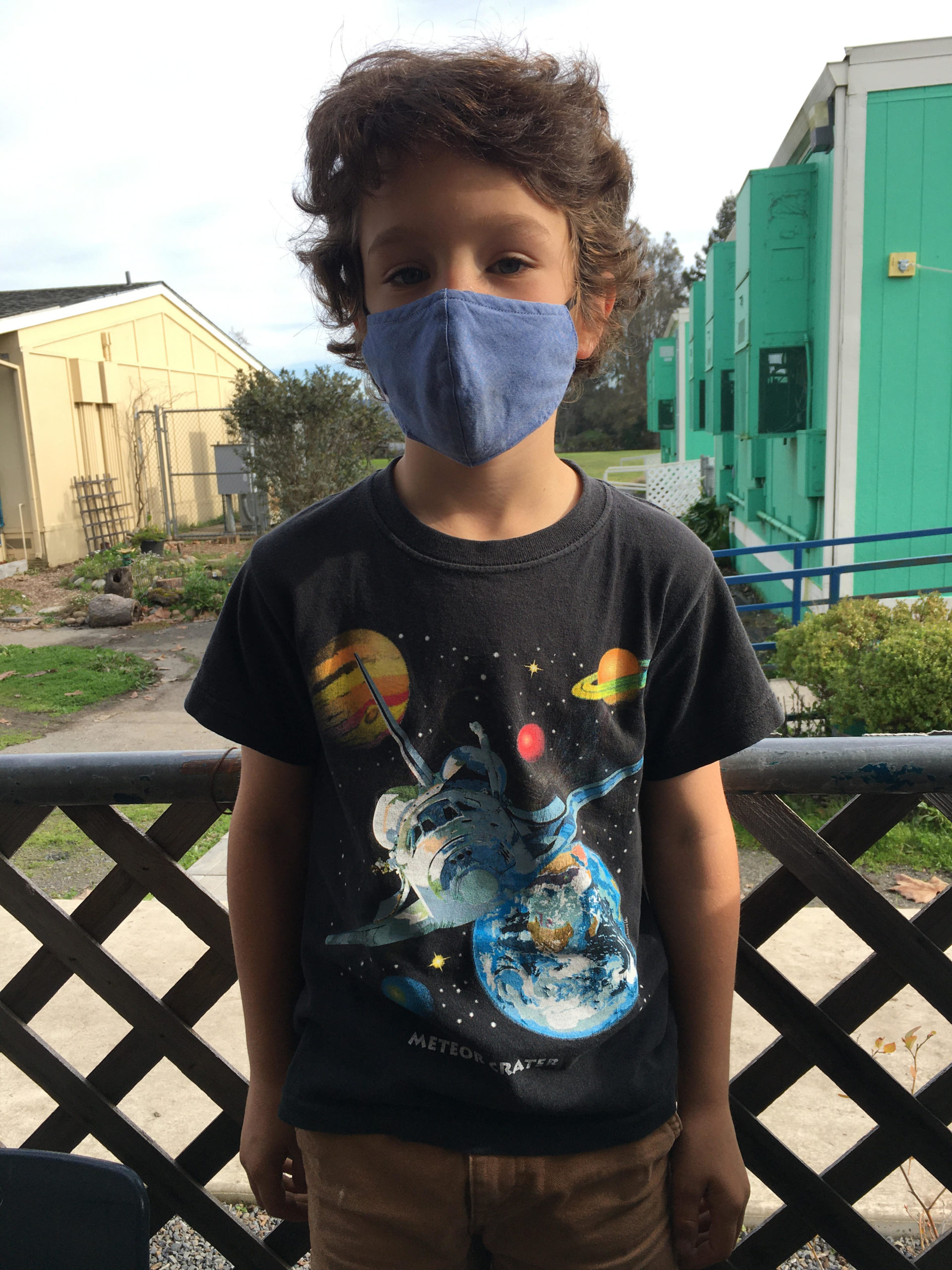 Friday Sharing – Earth Share this Friday
Friday sharing is going awesome! Such creativity from students, and we've enjoyed meeting some furry friends!
As a reminder – I need to know in advance if students are bringing a pet so that I may coordinate timing & logistics with you. Thanks!

Stay healthy out there!
*Miss Kristen*
"If you can't fly, then run.
If you can't run, then walk.
If you can't walk, the crawl,
but by all means, keep moving"
~Dr. Martin Luther King Jr.
Tuesday News – January 4th
Greetings and Happy New Year!
Wow, what a wonderful Solstice Festival! I was so proud of the kiddos for their sweet and expressive contributions to the show.
Ukulele with Ashley!
Students began their ukulele lessons with Ashley today!
Their first lesson included vocal warm-ups, getting to know the instrument, and strumming A7 and C chords.
The following photos have rock-star attitudes suitable for album covers… 🤘😆
And now a few reminders….
Spelling Words & Homework Reminders
Students should keep spelling words in a conspicuous place. Spelling words are sent home on Mondays and are often needed for homework.
Spelling words now have extra practice on the back. Is this homework? Nope, but students can turn it in if they want to on Fridays. Spelling words should stay at home for practice purposes until then.
Homework is "graded" as work turned in with a name on it. I welcome partial work to be turned in – students are primarily practicing their responsibility to keep track of and turn in their work.
Homework is not "one-size fits all". Some students may finish quickly, some may take more time or need more support. One idea if homework is a struggle: set a timer for 10-15 minutes – whatever is done in that amount of time is great.
Rain, rain, here to stay, come again another day!
Students may keep a pair of boots here in the classroom at all times
Students may keep a raincoat here at all times.
Otherwise, Please send your students to school with rain coats and rain boots on expected rain days.
Hope everyone had a wonderful holiday!
Thanks for reading,
*Miss Kristen*
"I don't know where I'm going from here, but I promise it won't be boring"
~David Bowie
P.S. – Though today was the first official lesson, students have had opportunities to explore the ukulele all school year – here is a fun pic from way back in August! (notice their matching outfits!)
Miss Kristen's Tuesday News ~ December 14th
Winter Solstice Festival
When? This Friday at 6:00 – it's outside! Dress for cold, damp weather
Student Arrival: between 5:30 – 5:45 – students can come straight to the classroom.
Student dress code: "Winter Warmies" – sweaters, scarves, knit hats, for example. Please email me with questions.


Art & Moon Journals
We have begun a new art theme; collage, and I have been so enamored with their creations that I just have to share them!
The art below was made with "community painted papers"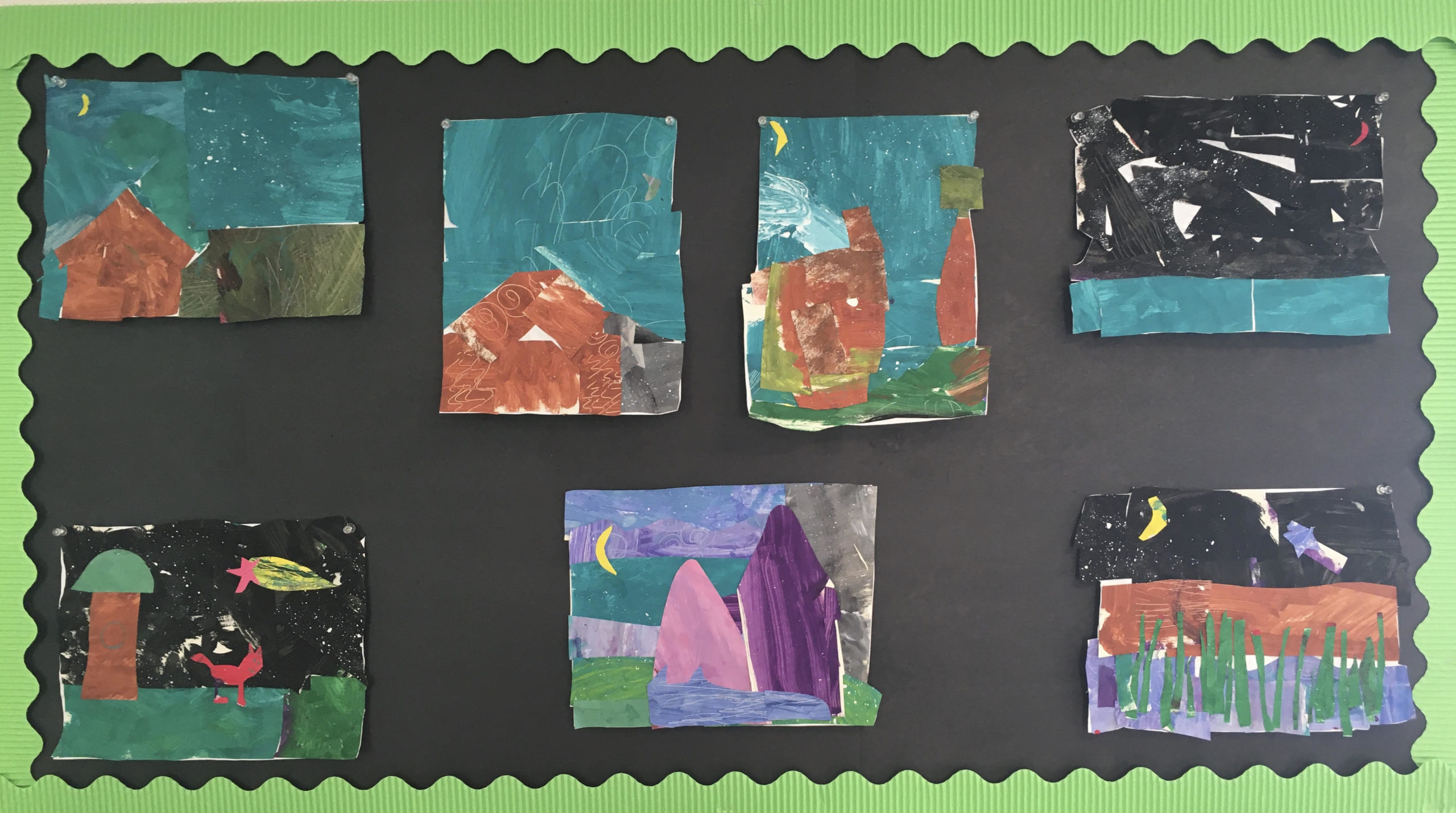 We are collecting student art and writing for their Moon Journal portfolio, which will be completed at the end of the year, but here's a sneak peek of what students created this week:
…and a few examples of the words (writing prompt; 'colorful' color words) that accompanied their art:
"Turquoisish, blueish, greenish, whiteish,
It looks like a standout yellow
Dragon green, light blue, ocean white cloud
Pacific algae"
"Violet and fairy blue
The sky can sing
Into the dark and fly"
"The blue is like an ocean sky
The lavender sky
The sky is swimming
The sky is a flower field"
Wow! We have a classroom of poets!
Looking forward to seeing you for our Solstice celebration,
*Miss Kristen*
"This is the Solstice, the still point of the sun, its cusp and midnight, the year's threshold and unlocking, where the past lets go of and becomes the future, the place of caught breath"
~Margaret Atwood
P.S. We sang some solstice songs with Miss Barnum's class this week, which means we get to hang out with Beau!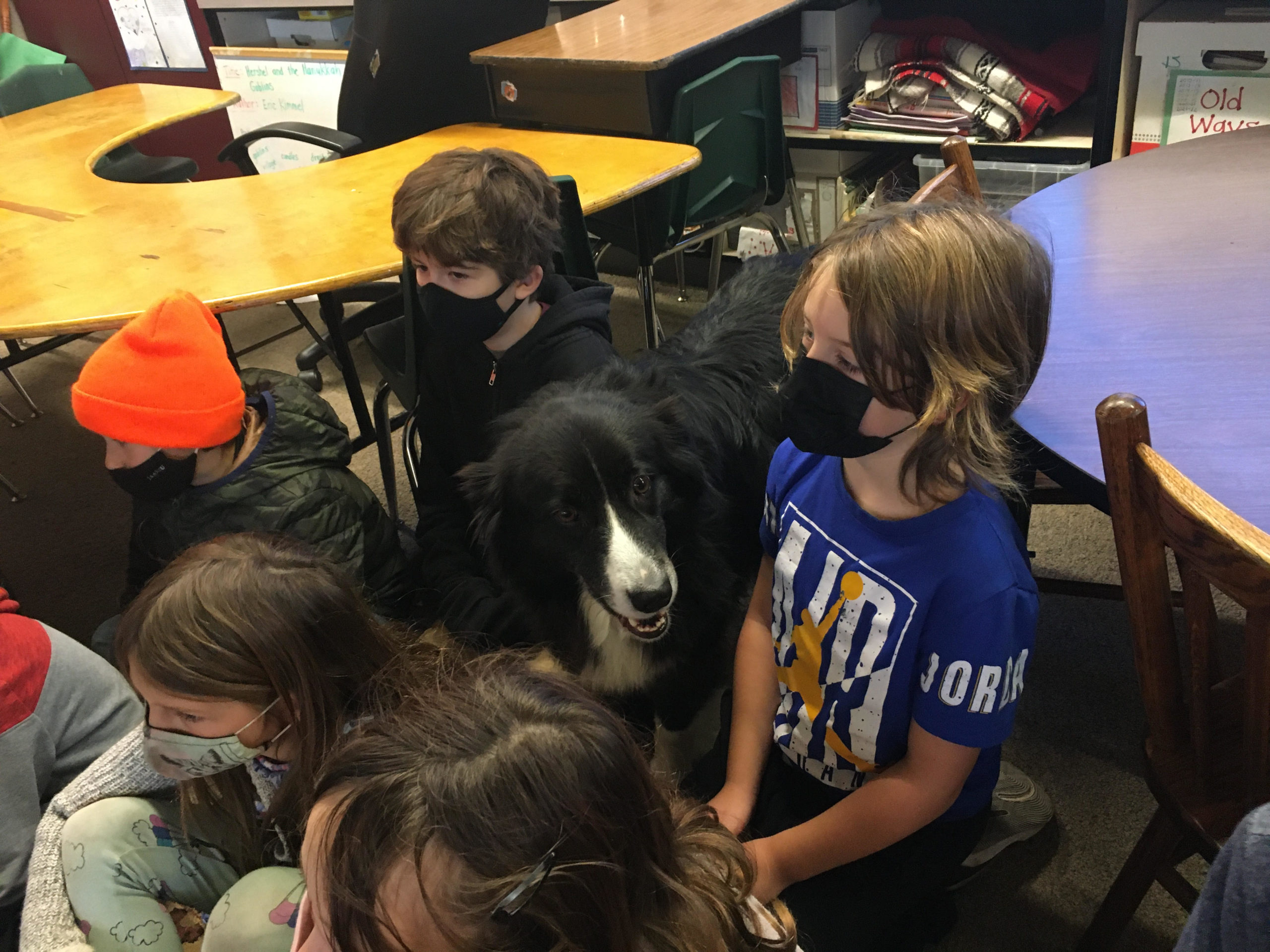 Miss Kristen's Tuesday News ~ December 7th
Winter Solstice Festival
You have probably noticed this date on the calendar in our Village weekly bulletin – here's hoping the weather lets us gather outside together for this very magical event on Friday the 17! Stay tuned for more details.
In the meantime… here are a couple ways you can help us prepare:
"Winter Warmies" – students will come dressed for the festival in their cozy winter wear. Think cute knit sweaters, knit hats, and scarves (not bulky coats). Let me know if you have any questions about gathering this attire for next week.
Clear jars for lanterns – in our classroom, we practice recycling and reusing as much as possible, and this year we are aiming to make our solstice lanterns out of repurposed jars. Here is what we are aiming for:
– used jars, (example: glass food containers) – please do not purchase anything new
– Something in the 12oz-16oz range
– clear, smooth glass (mason jars with raised writing are ok too if that is more available)
– de-labeled OR with labels (we can take them off in class)
– If you don't have any jars at home, that is ok! We will have extras. Aim to send them in with your student by Monday. THANK YOU!

Latkes with Lauren
Thank you Lauren for cooking latkes with the students last week for Hanukkah! They were sooooo delicious!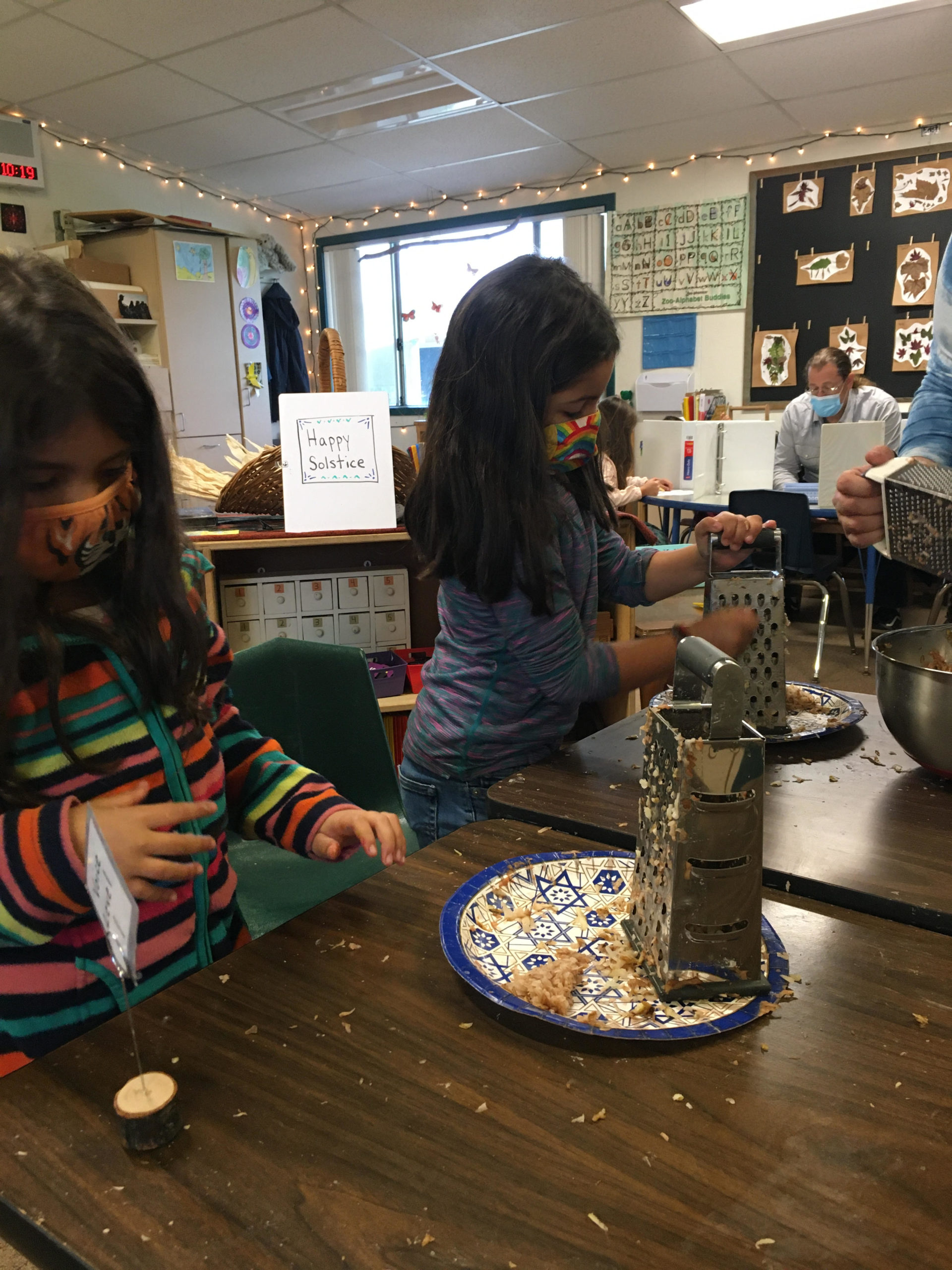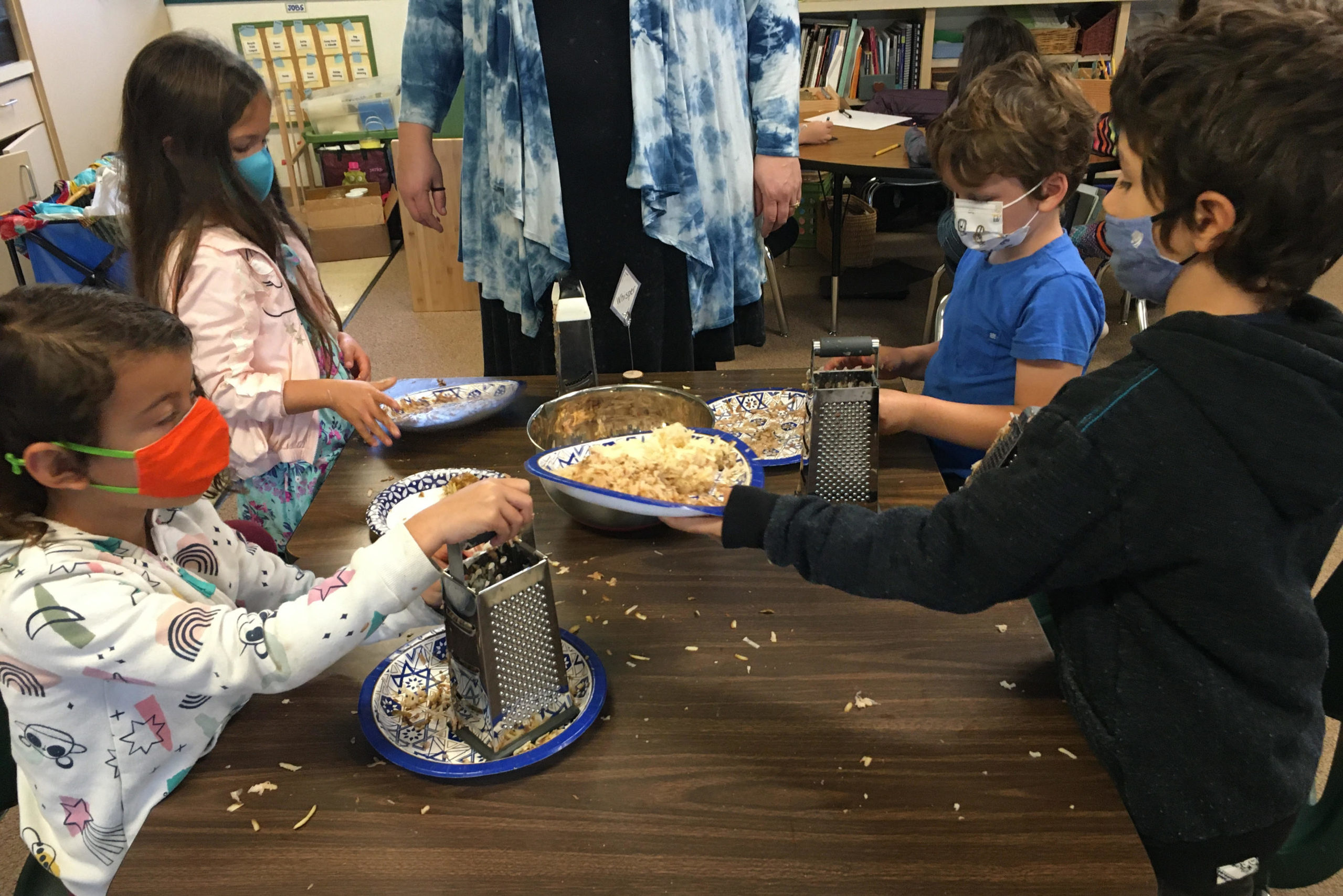 then we played some games of dreidel!…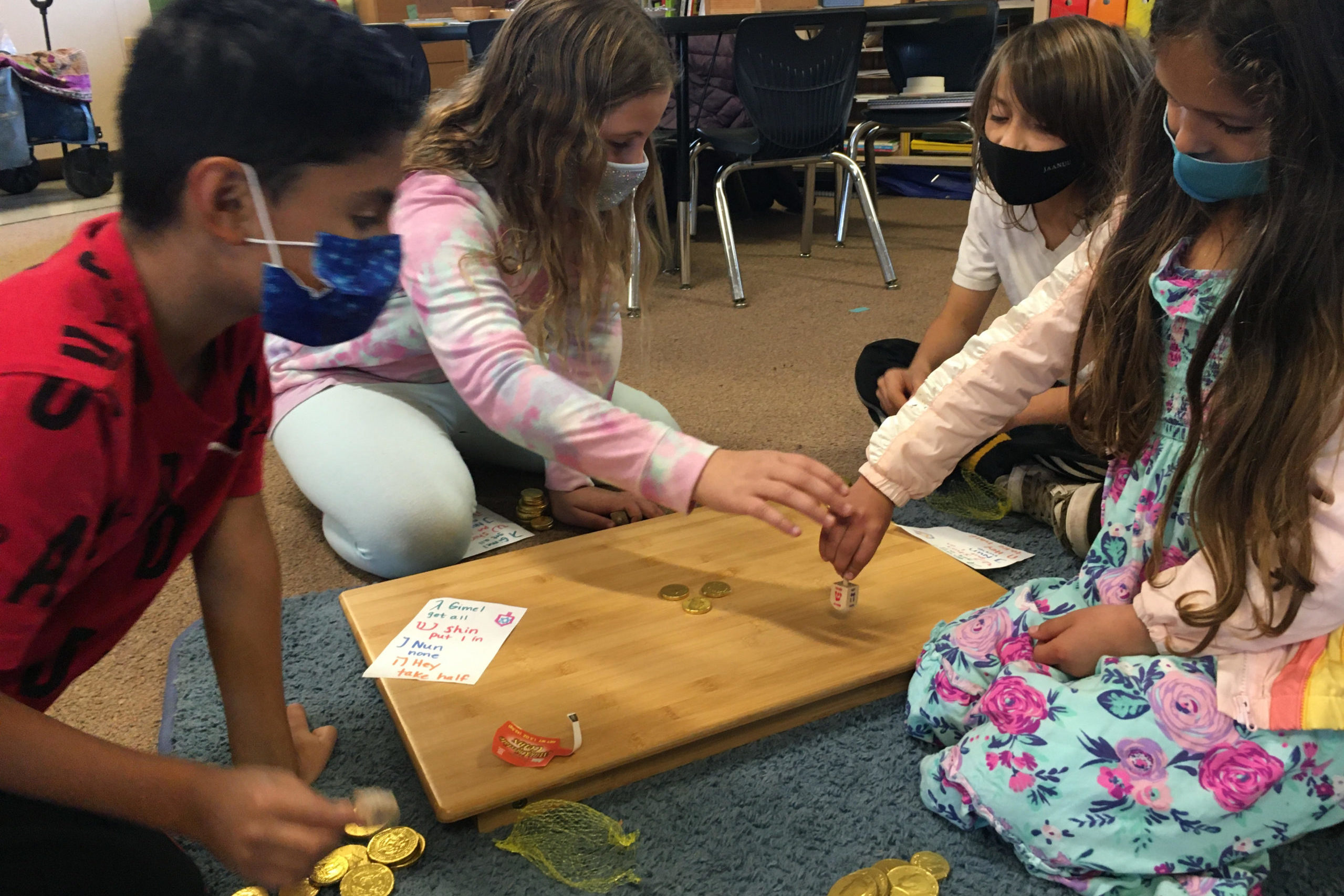 Friday Sharing
Friday sharing, Star group edition is this Friday!
All stars should be prepared to share something this friday afternoon… they know the protocol 🙂
Please let me know ASAP if this share involves you being here/helping 😉
*Miss Kristen*
"To know a community is to know its food"
~Gil Marks
Miss Kristen's Tuesday News ~ November 30th
…Students have completed their end-of-1st trimester project!
They surveyed everyone in our class a question of their choice, made tallies, created graphs, and analyzed the data…

What is your favorite dessert? What is your favorite sea animal? What is your favorite flower?

Results are in!
Here are a few examples of student surveys, the rest will be displayed out in front of our classroom all weekend long beginning Friday, come by and take a look!
Leaf Collection
I have asked students to begin bringing in leaves (fresh and still pliable) to class – we will press them and begin using them in some of our art for moon journals, etc.
Maybe 5 or 10 at a time – thank you for your help with this!
Friday Sharing
Friday sharing, Moon group edition is this Friday!
All moons should be prepared to share something this friday afternoon… they know the protocol 🙂
Please let me know ASAP if this share involves you being here/helping 😉

Thanks for reading, and Happy Hanukkah!
*Miss Kristen*
"Look at how a single candle can both defy and define the darkness"
~Anne Frank
Miss Kristen's Tuesday News ~ November 16th
Family/Holiday Traditions
Last year we started a new tradition in our class – sharing our family traditions!We'll continue this year, and I would like to request your support:
Please check your student's homework folder today for a blue "Family Traditions" page
Ask your child about their favorite tradition(s) that you share as a family. This can be holiday oriented, anytime throughout the year, or another tradition that your family upholds. Maybe they can't think of one, but a discussion might spark their thinking.
When ready to fill it out, you and your child can fill it out together (You may do the writing / take dictation). They can illustrate the tradition in the space provided. The page is two-sided, allowing for two different traditions, or for more space to write from side one.
We will share/read our traditions together in class – students should bring in their page no later than this Friday
My example I shared with the class today: When I was a kid in Tucson Arizona, every Thanksgiving my family would get together with another family, make a bunch of food, pack it up in the car, and drive up Mount Lemmon. There was often snow up there, which made it exciting and cold! We'd put all our food out on the picnic table and just eat all day long. We'd make a fire and cook fish and potatoes. My dad would create a scavenger hunt for the kids, which would often end in s'mores over the fire. Then we'd play a little football game on family teams. Then, we'd eat more food!
Upcoming Dates / Events:
Thanksgiving Holiday – no school Wednesday 11/24 – Friday 11/26
1st Trimester Progress Reports will be handed out Monday 11/22
Friday Sharing:
Sun Group – November 19th**
Moon Group – December 3rd
Star Group – December 10th
**If students' shares require a parent coming to the school, please email me so that we can coordinate
Photo time!!
Our class has had two special clay lessons/activities so far with a guest teacher from Art & Soul: monsters & coiled cups. What creative kiddos!
* Miss Kristen *
"Learn the rules like a pro, so you can break them like an artist"
~Pablo Picasso
Miss Kristen's Tuesday News ~ November 9th
Wow! What a wonderful Dia de Muertos!
Thank you all for being a part of Village's first festival this year.
Special thanks to:
Claudia (Lucia's mom) for making tacos, writing poems, and painting rocks with the students.
Carolina (Noa's mom) for painting faces before the festival.
Amy (Reed's mom) for gifting sugar skulls to each student in our class on the day of the event.

Upcoming Classroom Events:
Pajama Day – This Friday November 12th – we're celebrating the end of the first trimester with some fun … stuffies welcome!
Friday Sharing – begins next Friday November 19th with the SUN group – we'll be talking more about Friday sharing in class this week and next – ask your student what it entails!
1st trimester Progress Reports will be handed out on Monday November 22nd

Please enjoy some more photos from our festivities last week below….
In gratitude & appreciation,
*Miss Kristen*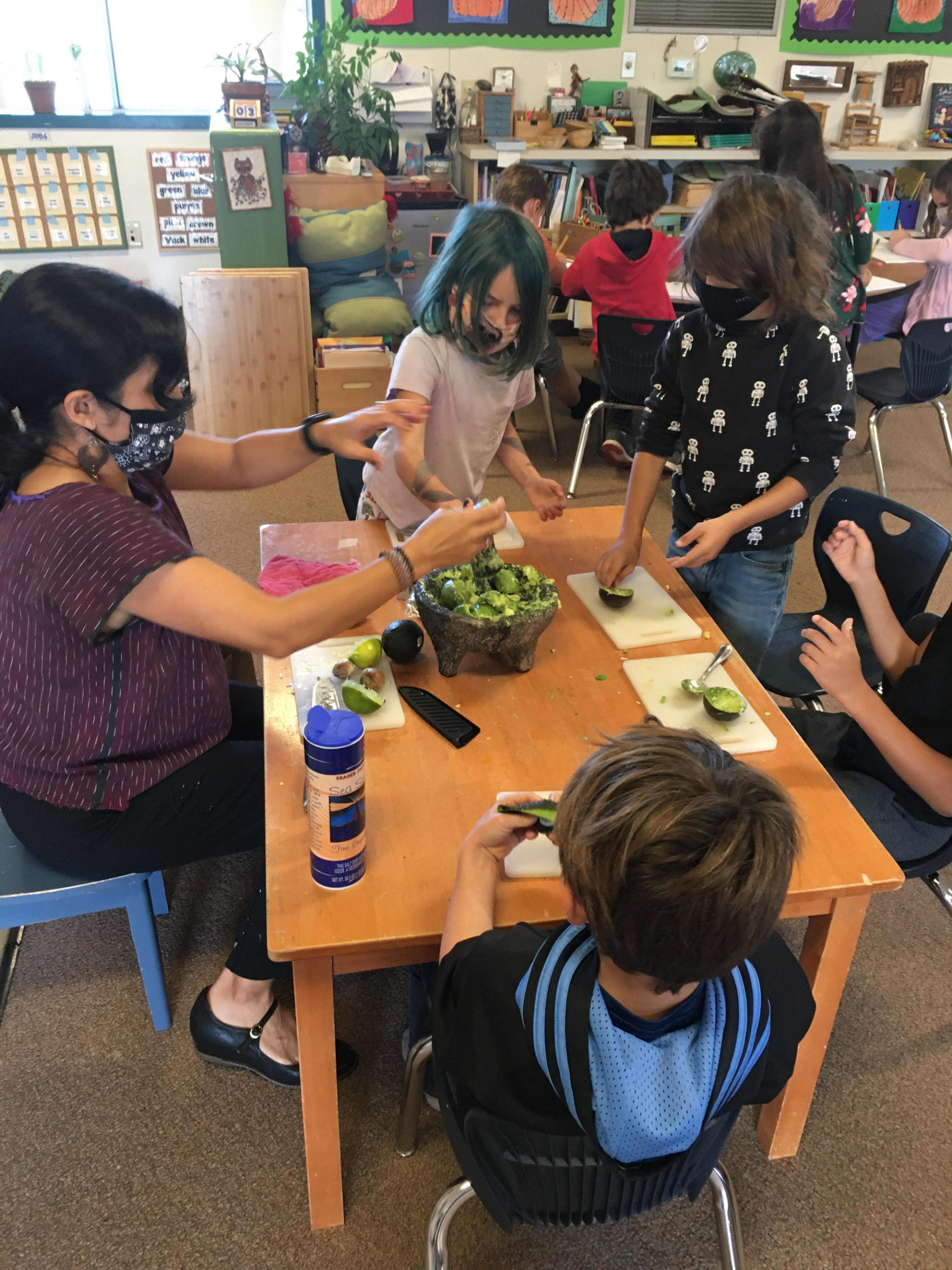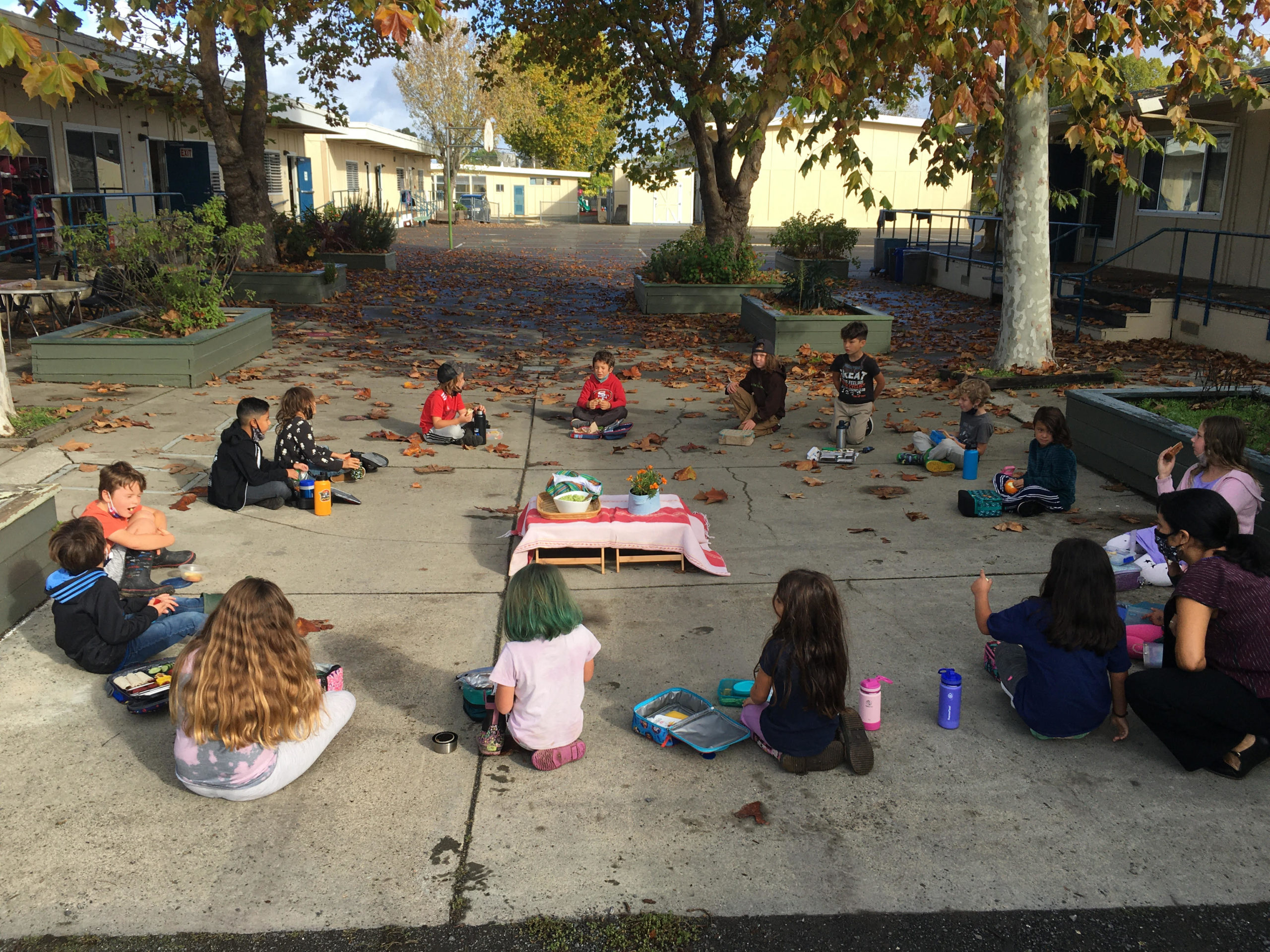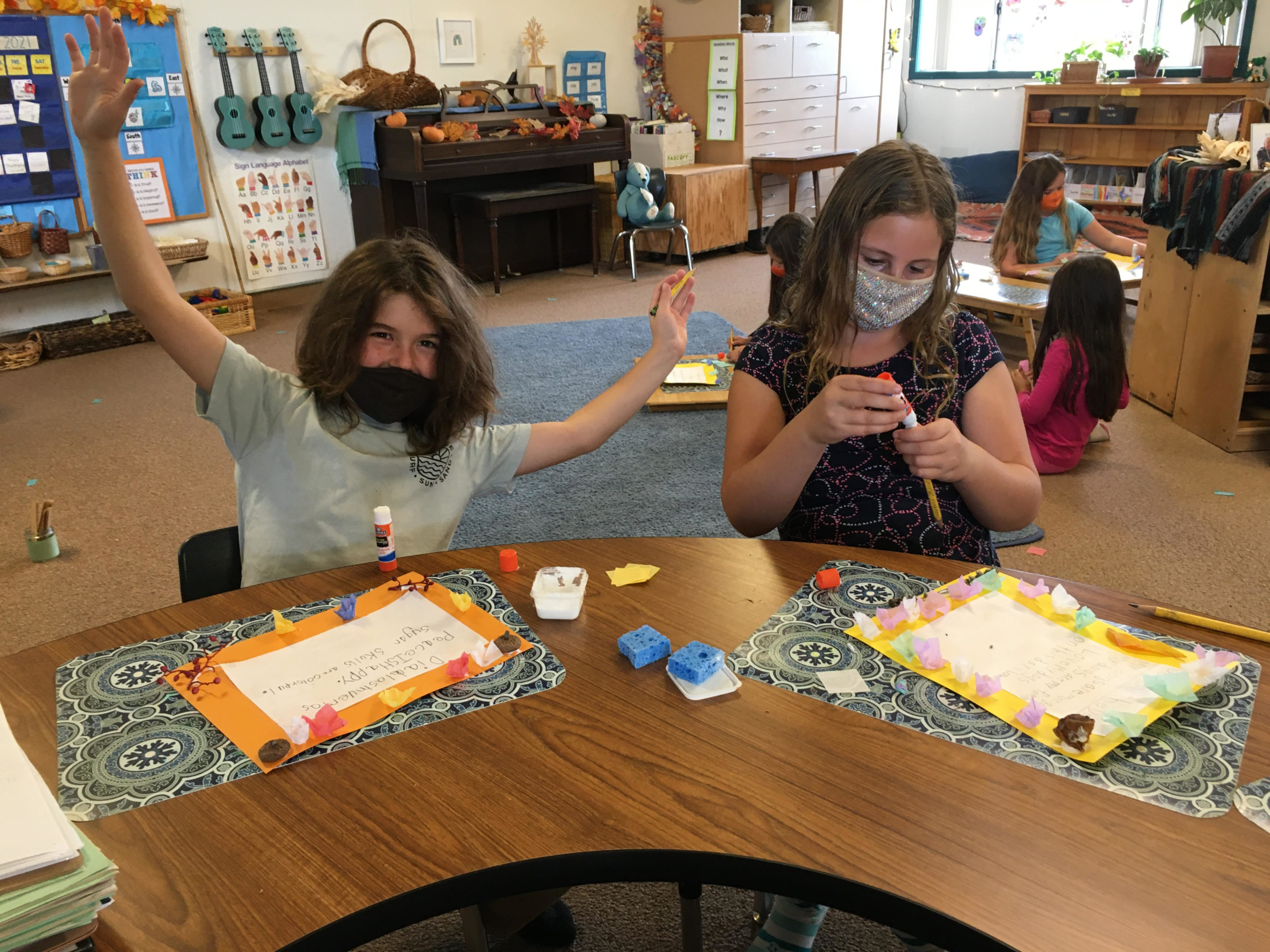 "This is the power of gathering: it inspires us, delightfully, to be more hopeful, more joyful, more thoughtful: in a word, more alive"
~Alice Waters
Miss Kristen's Tuesday News ~ November 2nd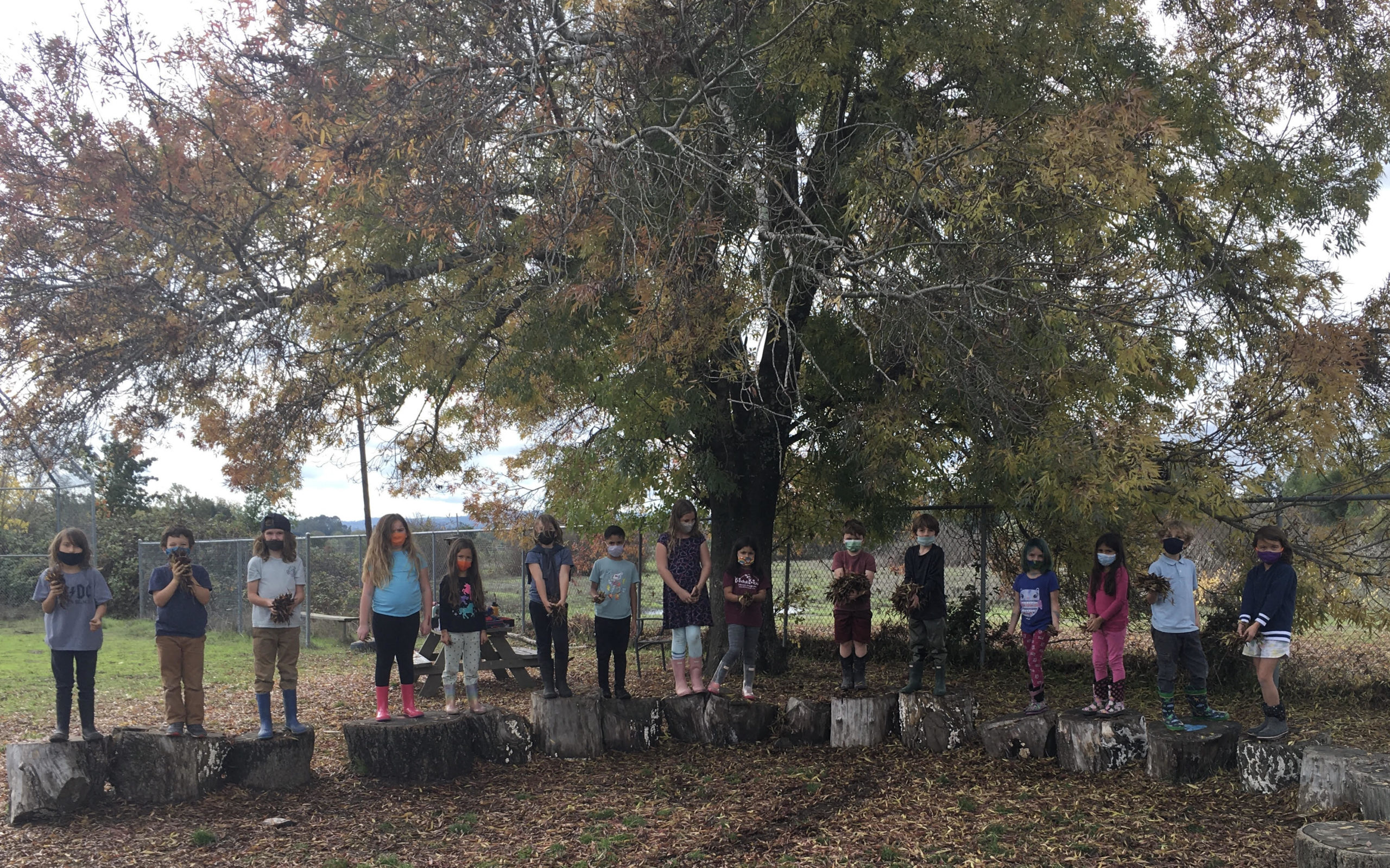 Don't miss our Dia de los Muertos Festival…
Festival Attire:

Students are encouraged to wear black skeleton attire – check Friday's bulletin for a link to a stencil
Masks: All students and families must wear masks. Our class made their masks last week and can change into that mask when they arrive at the classroom.
Face Paint: students are encouraged to paint their faces in traditional dia de los Muertos style – Noa's mom Carolina has graciously volunteered to help with student face paint on Friday evening beginning at 5:00 in our classroom. – Thank you, Carolina!


Arrival & Festivities:

Our festival begins at 6:00
Please arrive between 5:00 – 5:30 if your student would like their face painted, and no later than 5:50 to be ready to line up as a class for our school's first song.
There will be no childcare/supervision provided so please be prepared to keep an eye on your child before they line up with our class at 5:50
After our whole-school songs and individual class poems, etc, families will be invited to check out each class's ofrenda


Ofrenda Offerings
photos of loved ones and ancestors for our class ofrenda are still welcome!
Muchas gracias, Claudia! Lucia's mom Claudia led students in Dia de los Muertos poetry writing and art today. Student's work will be on display in our classroom on Friday, so be sure to come check them out!


See you on Friday!
*Miss Kristen*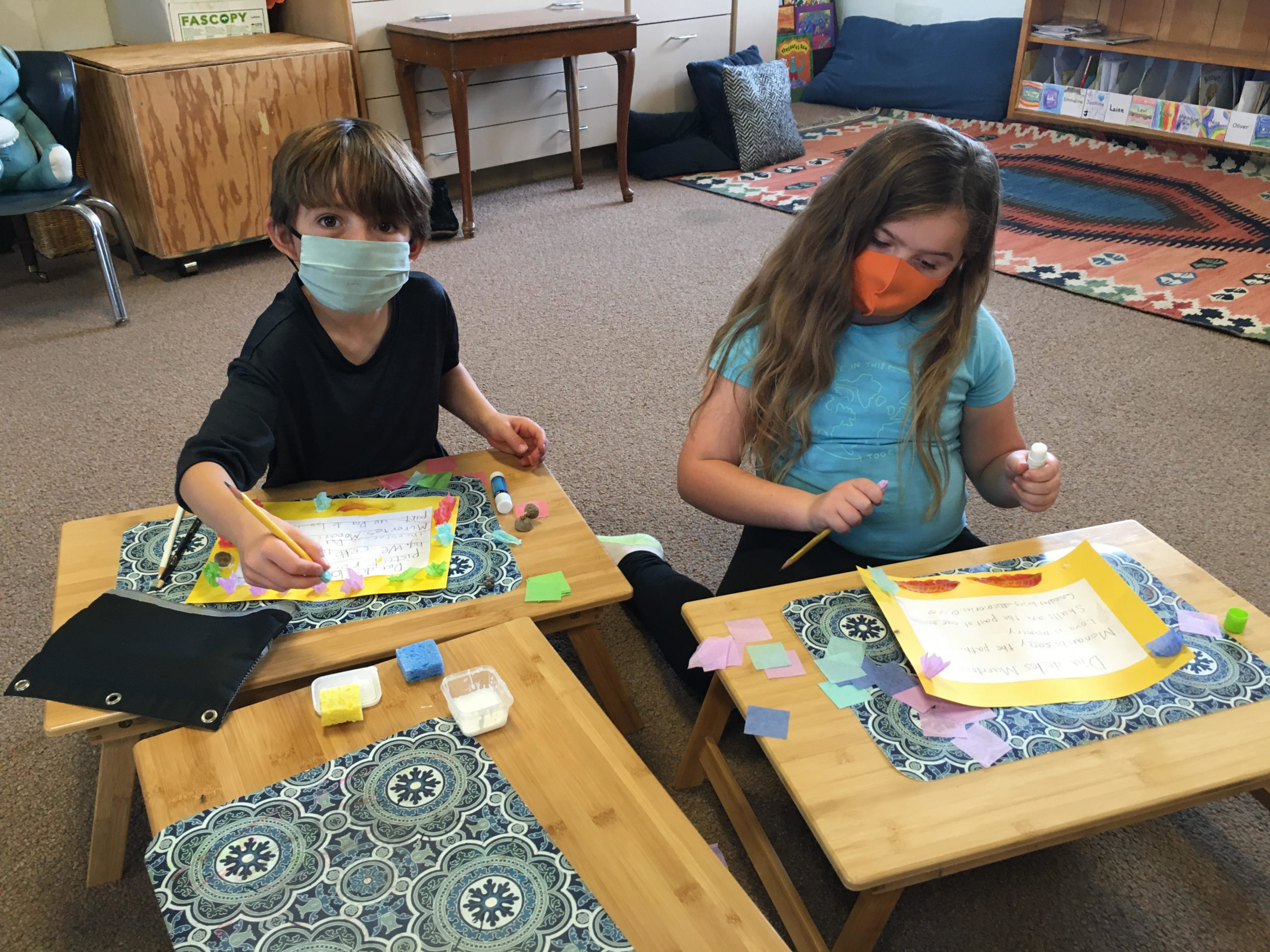 En el Dia de los Muertos
me acuerdo de tí
todavia quisiera
que estuvieras aquí
Pero vives en mi corazón
y nunca me voy a olvidar
del cariño y buenos recuerdos
que siempre van a estar

~Angelina Sáenz
Miss Kristen's Tuesday News ~ October 26th
Dia de los Muertos
I have enjoyed seeing pictures of and learning about the students' loved ones and ancestors so far!

We are gathering our items and will begin making our ofrenda on Friday.

I encourage students to bring in their photos and special items this week, though next week will work as well.

We are excited to share our seasonal poem with you, as well as our school songs with you during our festival next Friday November 5th.

Poetry
Our class has been learning poems about the earth, the moon, the stars… the seasons and the feelings that go with them. We often have sign language or other hand motions to go with our poems. Maybe your child can teach you?
Here's one example of a favorite of ours:
The Valleys Shape the Mountains
The Valleys shape the mountains
The shadow shapes the crescent moon
The chill of late December Shapes the warmth we feel in June
So next time that you're crying
Just remember this small rhyme
Your sadness shapes the happiness
You'll feel again in time
Calling All Artists
Speaking of poetry, I like to make cards with the titles of our songs and poems, with some art representing the theme.
I just don't have time (or the artistic expertise) to create these cards, and would like to ask for your help!
If you like to draw and color, and would like a small project from time to time, let me know!



Que Llueva!
Let it rain!
It looks as though all students have boots and coats, THANK YOU!
As a reminder, students may leave their boots here at school, or arrive to school with them every day.
Students are encouraged to play in puddles in a slow and careful manner, avoiding splashes and mishaps so that they can remain dry for the remainder of the school day, however, accidents happen….
I might recommend during this rainy season that students have extra socks, underwear, and a pair of pants in their backpacks for these inevitable mishaps.
I'll leave you with some pictures of puddle-pals, and Paul with his masked stick-man. 🙂

Thank you for reading,
*Miss Kristen*
"Winter is an etching
Spring, a watercolor
Summer an oil painting
and autumn a mosaic of them all"
~Stanley Horowitz
Miss Kristen's Tuesday News ~ October 19th
Wet, Wintery Weather is HERE! Rain Boots / Rain Coats Needed!
The rain has arrived, and with it we must be prepared…
Students need to have rainboots at school every day:
– Ideally, students will have a set of rain boots to keep here at school all season
– If students just have one set of boots between home and school, they need to wear them to school everyday.
– Even when it is not raining, we go out to recess in the field and it can be very soggy and muddy, which is why they need to be prepared everyday.
Students need to have a raincoat on rainy days:
– We still go outside in the rain, and in order to stay warm and dry students must have a water-proof raincoat with a hood.
– They do not need to leave them at school, but students should come to school on expected rain days with their raincoats.
*Thank you for your help in preparing students for the upcoming weather.
*I may have a few extra pairs of rain boots to donate if needed
*If you have extra rainboots to donate, feel free to send them our way!

Que Llueva!
Let it rain!
It looks as though all students have boots and coats, THANK YOU!
As a reminder, students may leave their boots here at school, or arrive to school with them every day.
Students are encouraged to play in puddles in a slow and careful manner, avoiding splashes and mishaps so that they can remain dry for the remainder of the school day, however, accidents happen….
I might recommend during this rainy season that students have extra socks, underwear, and a pair of pants in their backpacks for these inevitable mishaps.I'll leave you with some pictures of puddle-pals, and Paul with his masked stick-man. :)Thank you for reading,*Miss Kristen*
"A rainy day is the perfect time for a walk in the woods"
~Rachel Carson
Miss Kristen's Tuesday News ~ October 12th
Building is Serious Business
At the beginning of each week, students get to build with blocks together as part of our morning center rotations. Can it get a bit loud? Undoubtedly. Am I continuously amazed at the creativity and teamwork demonstrated by the students? Absolutely!
Check out these block creations featuring the Fire and Air groups →


Kooky Kids with Kickballs
Every Wednesday and Friday students have movement/P.E. with Matt, and often get to play games with their big buddies in Ms. Parent's class. They have been practicing their gross motor skills in games such as Pac-Man, Blob, and relays.
Our colorful kickballs / hats however have been sitting neglected on the shelf for too long now… is it time to inflate them and put them to use? Or perhaps keep them as hats? 🙂 →
It has been wonderful to speak with you all in person during conferences!Stay tuned for more news next week about our El Dia de los Muertos activities and festival.


Thank you for reading,
*Miss Kristen*
P.S. – Our class explored the word "whimsical" last week, and so this next quote seemed perfectly fitting to end this particular newsletter →
"Creativity does not belong exclusively to professional artists and geniuses; it is the birthright of every single human being. Creativity is our common heritage. You don't need to quit your job and move to Paris in order to lay claim to this heritage – all you have to do is clear some space in your life for whimsy, invention, sensory pleasure, and play. Most of all, you have to learn how to follow your curiosity more than your fear."
~Elizabeth Gilbert
Miss Kristen's Tuesday News ~ October 5th
Reminder: no school Friday October 8th and Monday October 11th
Woodwork: Students are getting some great practice cutting, hammering, & creating!
So far they are practicing skills by designing and building their own creations… stay tuned for some student woodworking collaborations, and I may even employ them to make some things for the classroom and garden!
Thanks to Matt for his knowledge and patience in teaching this awesome skill to the students!
Look at these kiddos go! Artists and craftspeople in action! More pics coming soon…
*Miss Kristen*
"A craftsperson knows in advance what the finished result will be, but the artist knows only what it will be when they have finished it."

~W.H. Auden
Miss Kristen's Tuesday News ~ September 28th
Parent Conferences
I look forward to meeting with you beginning next week!

Please check in with me if you need a reminder of the day/time of your conference




Science Stars
We have had a fun couple of weeks so far with Stephanie and our Science Stars!

First students got to explore the path behind our school with the olders on a good-natured scavenger hunt… heart shaped rocks, animals tracks, birds…. they found a bunch of cool nature stuff!

Last week Stephanie gave students an introduction to the busy world of bees… we got to BeeCOME the BEES!

This week our class will work with their fellow Science Stars (the olders) to put their bee skills into action with our BEE ALIVE game… they can't wait!




Thank you for reading!
*Miss Kristen*
"The hum of bees is the voice of the garden."
~Elizabeth Lawrence
Miss Kristen's Tuesday News ~ September 21st
Happy Autumnal Equinox!
And…. Happy International Day of Peace!
Students made Peace Pinwheels today and we went outside to let them catch the wind!
Moon Journals & Writing Workshop
We had a great morning outside writing about the moon! Students were so creative comparing that big, bright full moon to so many things!
"The moon is like a soccer ball". ~Arthur
"The moon looks like a frisbee". ~Roman
"The moon looks like cheesecake". ~Jasmine
Then later in the day they "workshopped" their journals by learning new sight words, practicing spelling, or adding new ideas.
Life Skills
Responsibility: Follows through on individual actions without guidance.
We have been discussing this life skill together in class, and students are showing some amazing responsibility.
They know whose responsibility it is to put their homework back into their folders, their folders back into their backpacks, and turn it the next morning!..but you are welcome to give gentle reminders if needed 🙂
Reminder: No school this Friday!
Thank you for reading,
*Miss Kristen*
"On this platform of peace, we can create a language to translate ourselves to ourselves and to each other."
~Maya Angelou, 'Amazing Peace'