Tuesday News – September 27th

Upcoming Dates!
Hoedown!: Friday, September 29th
NO SCHOOL: Friday October 6th & Monday October 9th
Conferences: October 11th – October 18th
Field Trip! Sebastopol Community Apple Press: Friday, October 13th
Field Trip! Luther Burbank Center for the Arts: Tuesday, November 14th
Zero Waste Village, Part 2
Our first school festival is coming up and we are talking about how we can REDUCE, REUSE, and RECYCLE while enjoying potluck with our community….
Please bring reusable plates/bowls and silverware for your family on Friday if you are joining us for our potluck at the Hoedown.
Our class is requesting small USED canvas bags to repurpose into a customized tote for future potluck events. While we won't have these ready for this Friday, we will be beginning to collect these items to add our artistic flair to being GREEN at our next community potluck. If you have any extras already lying around that you would like to donate, please send them in!
P.S. – We are still requesting gallon water jugs! Please see last week's newsletter for details.

Peace & Pinwheels
Last Thursday was the International Day of Peace.
We celebrated by discussing what Peace means to us, and making PINWHEELS.
Peace is….
"Getting along with others" ~Maya
"Having people to play with, being kind, and having people to stick with you when you are lonely" ~ Wren V
"Hanging out with your cat and doing homework" ~Phoenix
"Helping people when they're hurt" ~Ella
"Love and friendship ~Kayla
"Having friends" ~Christopher
"Peace" ~Vivi
"Mindfulness" ~Avery
"When people get along" ~Michael
"Friendship, kindness, love and calmness" ~Adella
"When people go outside and help each other out and they love their life" ~Alexander
Thanks for reading!
*Miss Kristen*
"Peace begins with a smile"

~Mother Teresa
Tuesday News – September 19th

Upcoming:
Save the dates… more details soon!
This Friday, 9/22: NO SCHOOL.. and also the autumnal EQUINOX!
Hoedown!: Friday, September 29th
Conferences: October 11th – October 18th
Field Trip! Sebastopol Community Apple Press: Friday, October 13th
Field Trip! Luther Burbank Center for the Arts: Tuesday, November 14th
Zero Waste Village, Part 1!
Last week we had a special guest from Recology talk to the students about TRASH!
Our class already had awesome knowledge about what gets thrown away, recycled, or composted, and they asked excellent questions.
Along with lessons and activities with Ms. Parent, our class has a few other ways we want to help our Village School reduce, reuse, and recycle!
We'd appreciate your help too, please see the request below….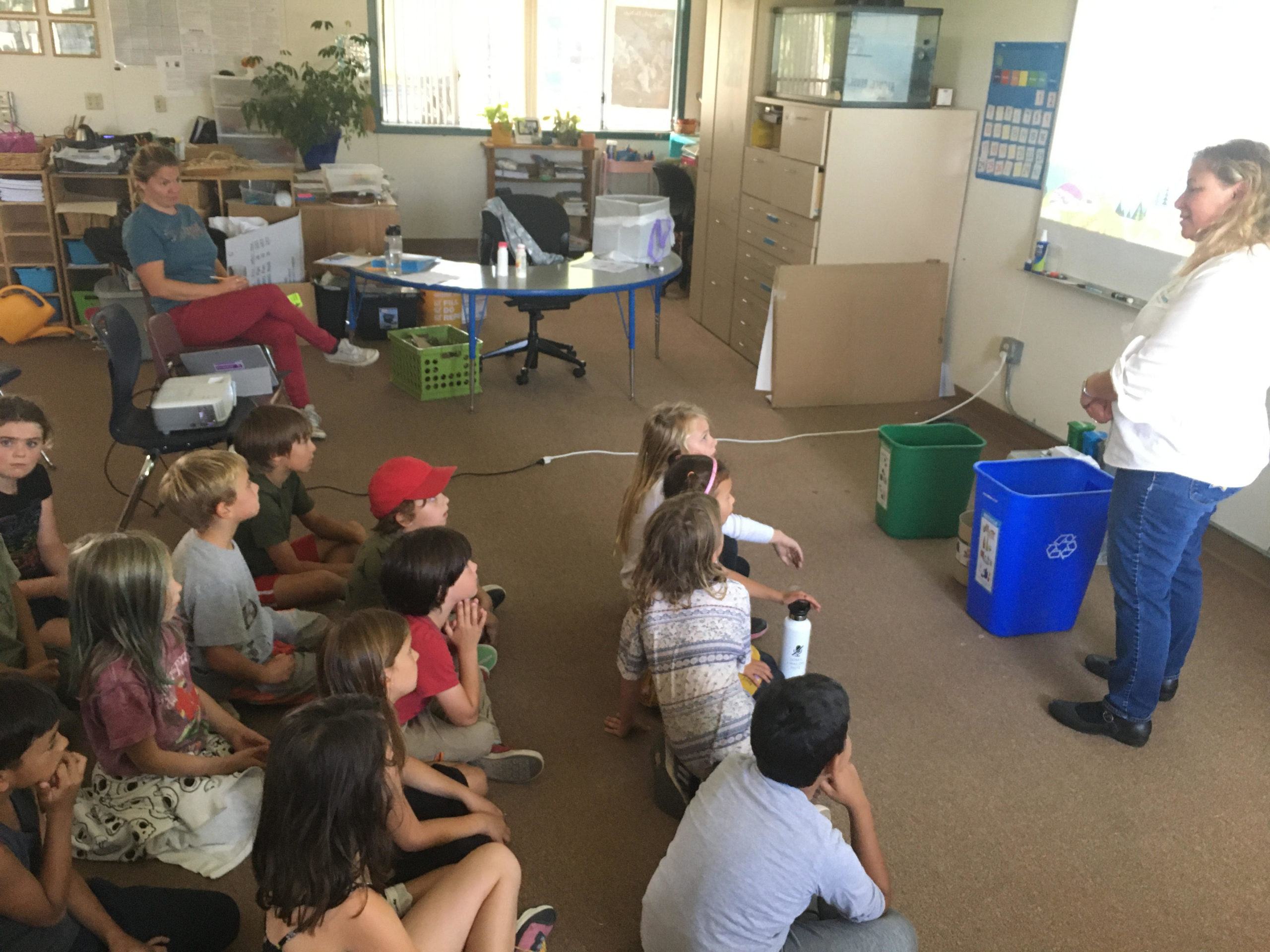 One way our class reduces waste is by making sure that any small or soft plastic from our classroom (think snack wrappers, etc) does not end up in the landfill. We are beginning a special project to make building materials out of plastic "bricks". This project will likely take all year, but we are getting started now and could use empty, used (not new with water) gallon water containers such as the one pictured here. (Please do not buy one if you don't use these already, but if you already use or have these kind of containers, we will take them!)
We have another project in the works… please stay tuned for "Zero Waste Village, Part 2" next week!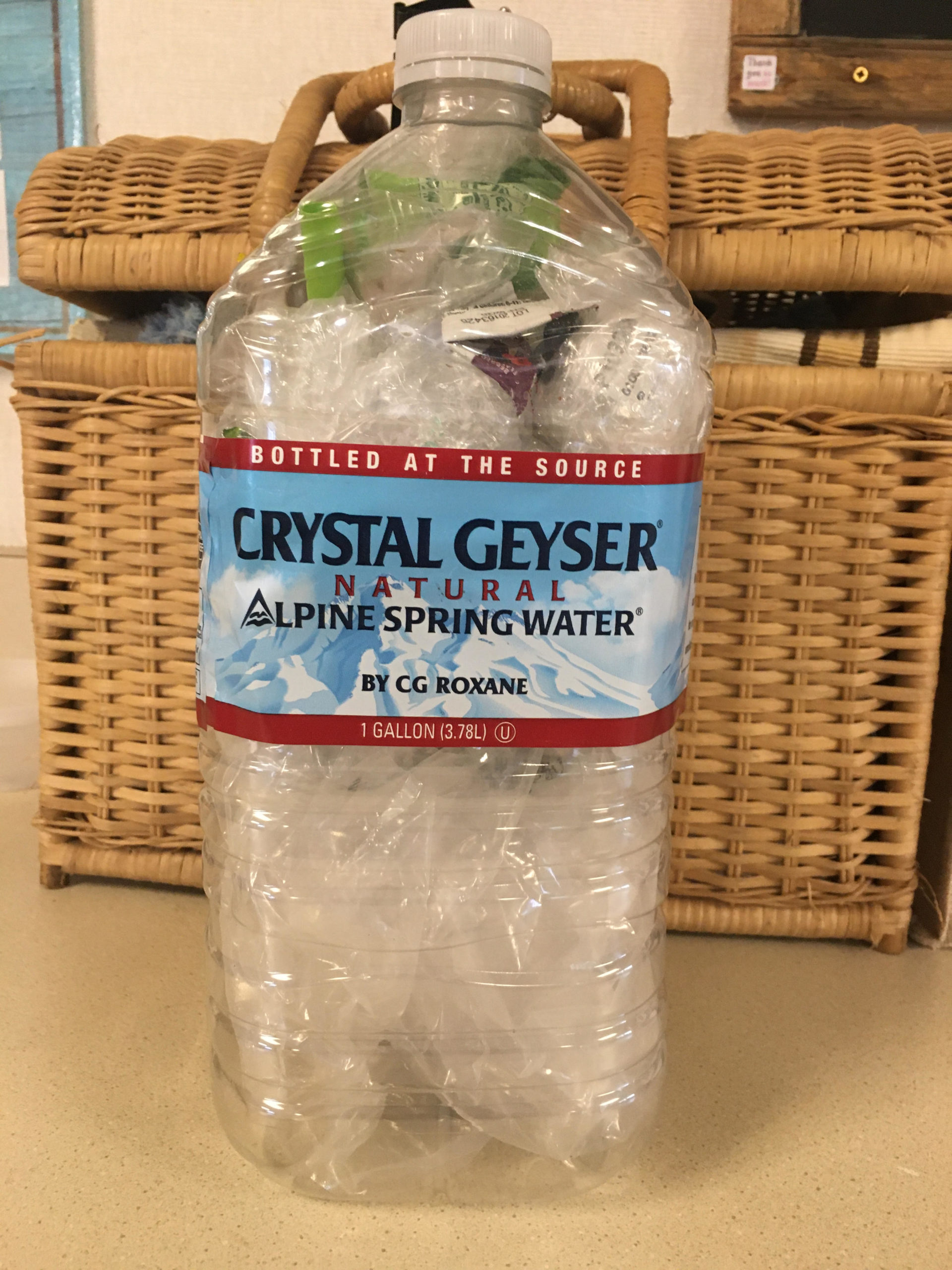 September Life Skill – Friendship
Here are some thoughts from students….
"Friendship is everything to me, and its also fun" ~Christopher
"Friendship is kindness" ~Adella
"Friendship is having fun with each other" ~Alexander
"Friendship is being friends with people and helping when they're hurt" ~Ella
"Friendship is having a play date with your friend" ~Vivi
"Friendship is kindness and helping others" ~Seva
Thank you for reading,
*Miss Kristen*
Here's a couple of friends at recess time!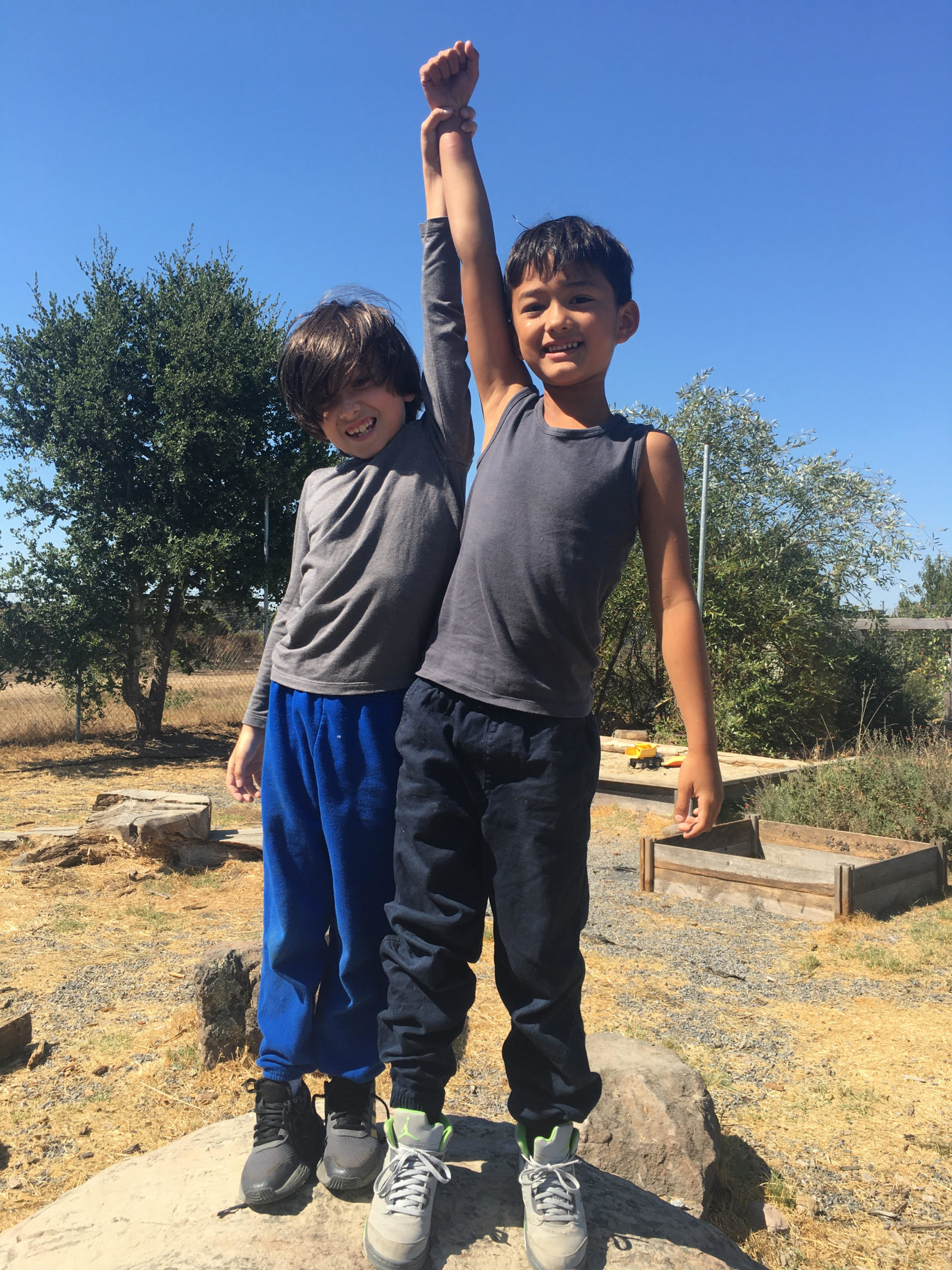 "Wherever you are it is your own friends who make your world"

~William James
Tuesday News – September 12th

Greetings!
Thank you again to those who came to our meeting last night!
If you were unable to make it, I have a handout of discussion points / reminders, ask me and I'll give you one after the school day sometime this week!
Upcoming:
Save the dates… more details soon!
Hoedown!: Friday, September 29th
Conferences: October 11th – October 18th
Field Trip! Sebastopol Community Apple Press: Friday, October 13th
Field Trip! Luther Burbank Center for the Arts: Tuesday, November 14th
Thank you, Volunteers!
Thank you so much to our volunteers who are helping keep our spaces clean, and to Arlo's dad Jeff for installing a new faucet for our sink. If you are interested in helping out throughout the year there are still jobs available at the link below.
SIGN UP FOR A SUPPORT JOB!
Sight Words
Today during rotations students learned / reviewed our first 30 sight words.
We use the FRY SIGHT WORDS list if you want to help support your student at home.
Our goals are to learn to read sight words with automaticity, as well as eventually spell them accurately.
Today we grouped our words into two groups; those that DO NOT "follow the rules" (which most sight words do not) and those that DO "follow the rules" (but we use them a LOT)… then we played some BINGO!
Art Skills – Stencils
Students have been following instructions during guided art and learning to use all kinds of stencils. For our recent half-moon art we used plates and torn paper as stencils!
Thank you for reading! (the words "you" and "for" are in the first 30 sight words!!)
*Miss Kristen*
"Let us be grateful to people who make us happy.
They are the charming gardeners who make our souls blossom."

~Marcel Proust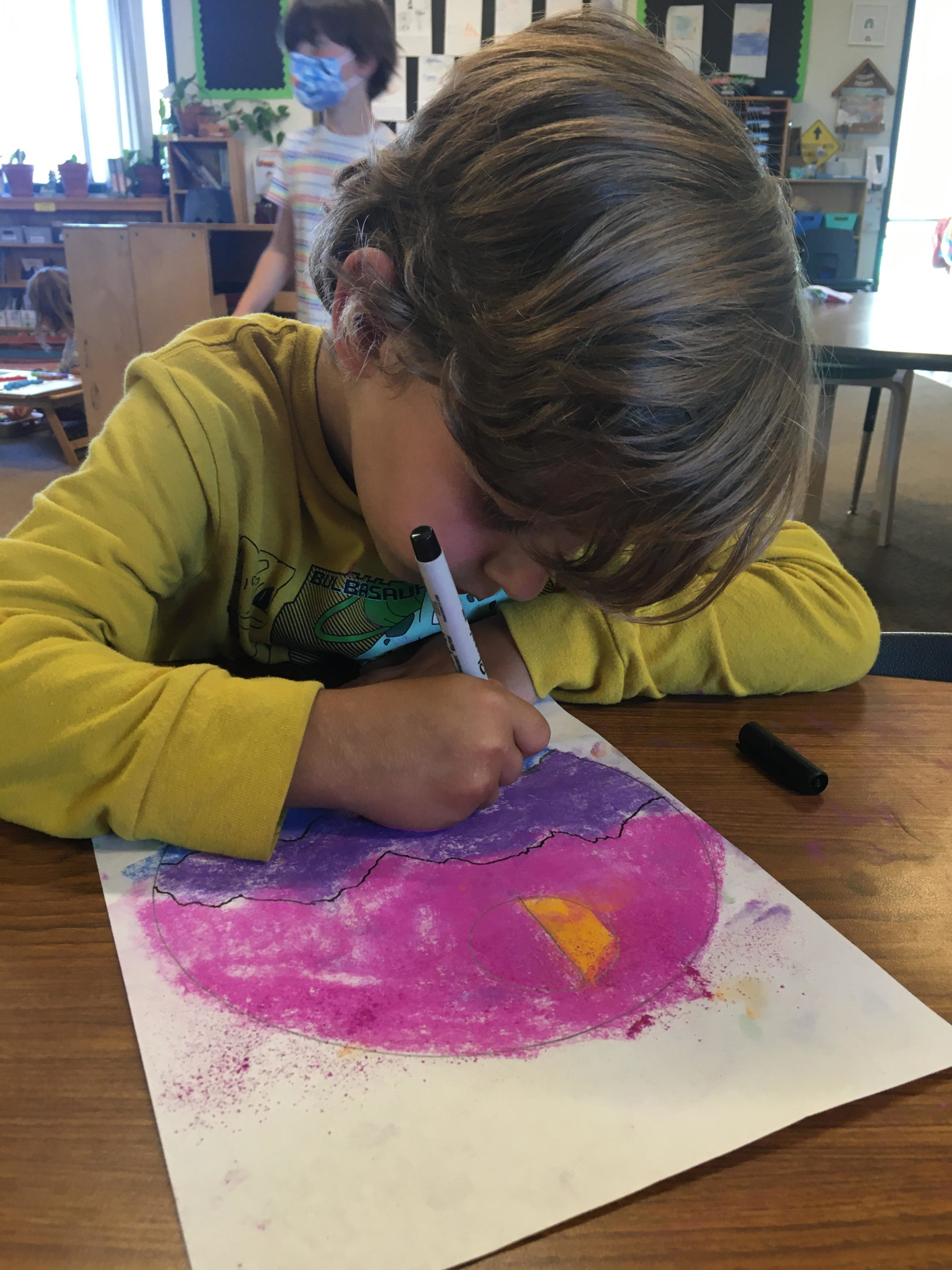 Tuesday News – September 5th

Upcoming Dates
Parent meeting this Monday September 11th at 5:30!
The Moon and our Moon Journals
Did anyone catch that full blue super moon last week? WOW!
Students made some incredible artwork I look forward to sharing with you at our parent meeting next week.
In addition to moon-themed art, our writing journals are named "Moon Journals". This is where students learn and practice a variety of things; handwriting, spelling, grammar, and most importantly, IMAGINATION.
We have been focusing on nouns. I always invite you to support their learning at home related to these themes whenever possible. This might look like a simple activity on the way home from school; name all the nouns you see, is it a person, a place or a thing?
Life Skills
A large part of our classroom discussions revolve around life skills. This month we will be focusing on FRIENDSHIP and CURIOSITY.
We have been talking and sharing about friendship and what it means to be KIND.
Stay tuned in future newsletters for student quotes and ideas about these important topics!
Thank you for reading, I look forward to sharing some more details of our classroom next week at the meeting!
*Miss Kristen*
"Readers are lucky, they will never be bored or lonely"
~Natalie Babbitt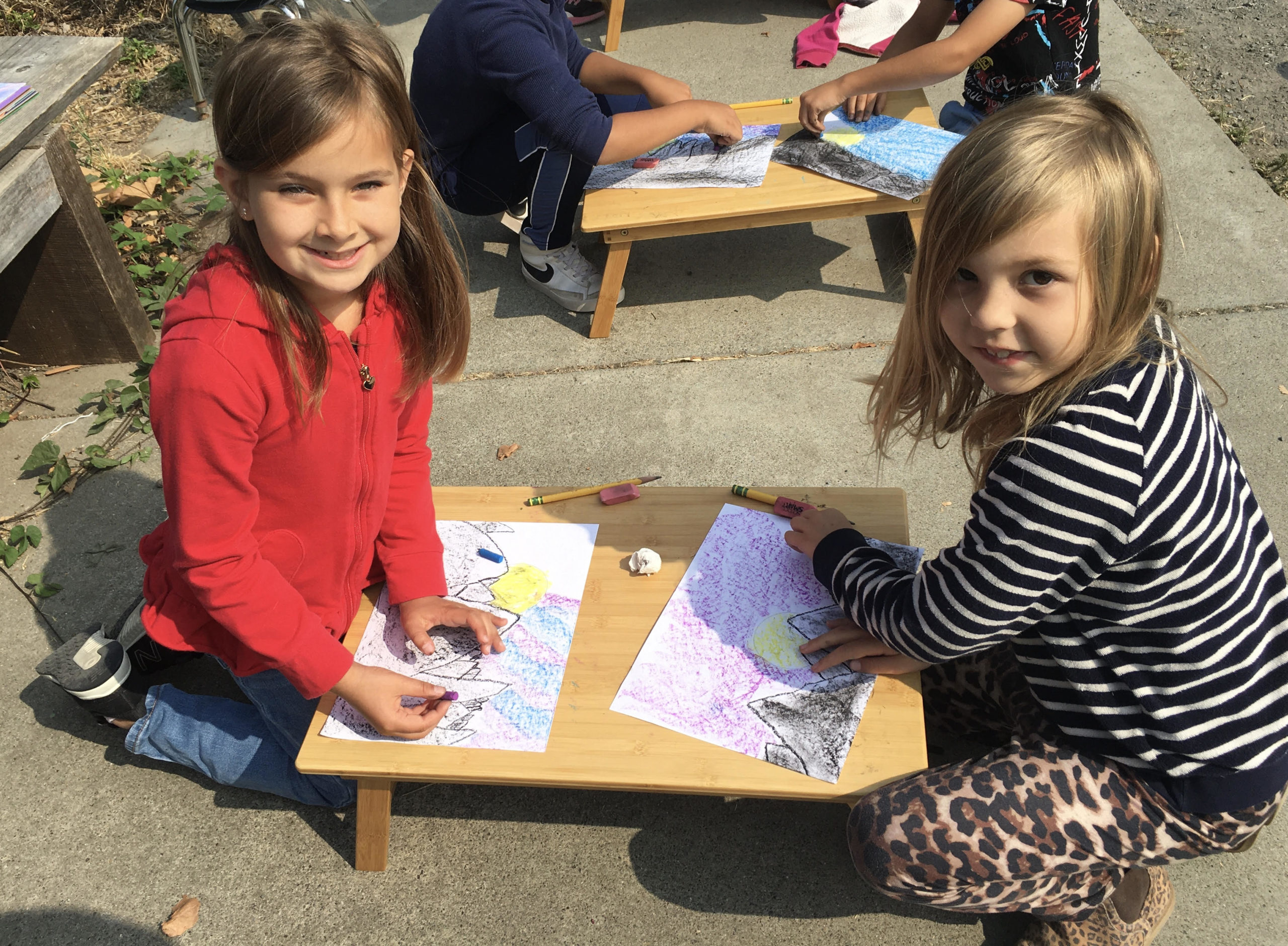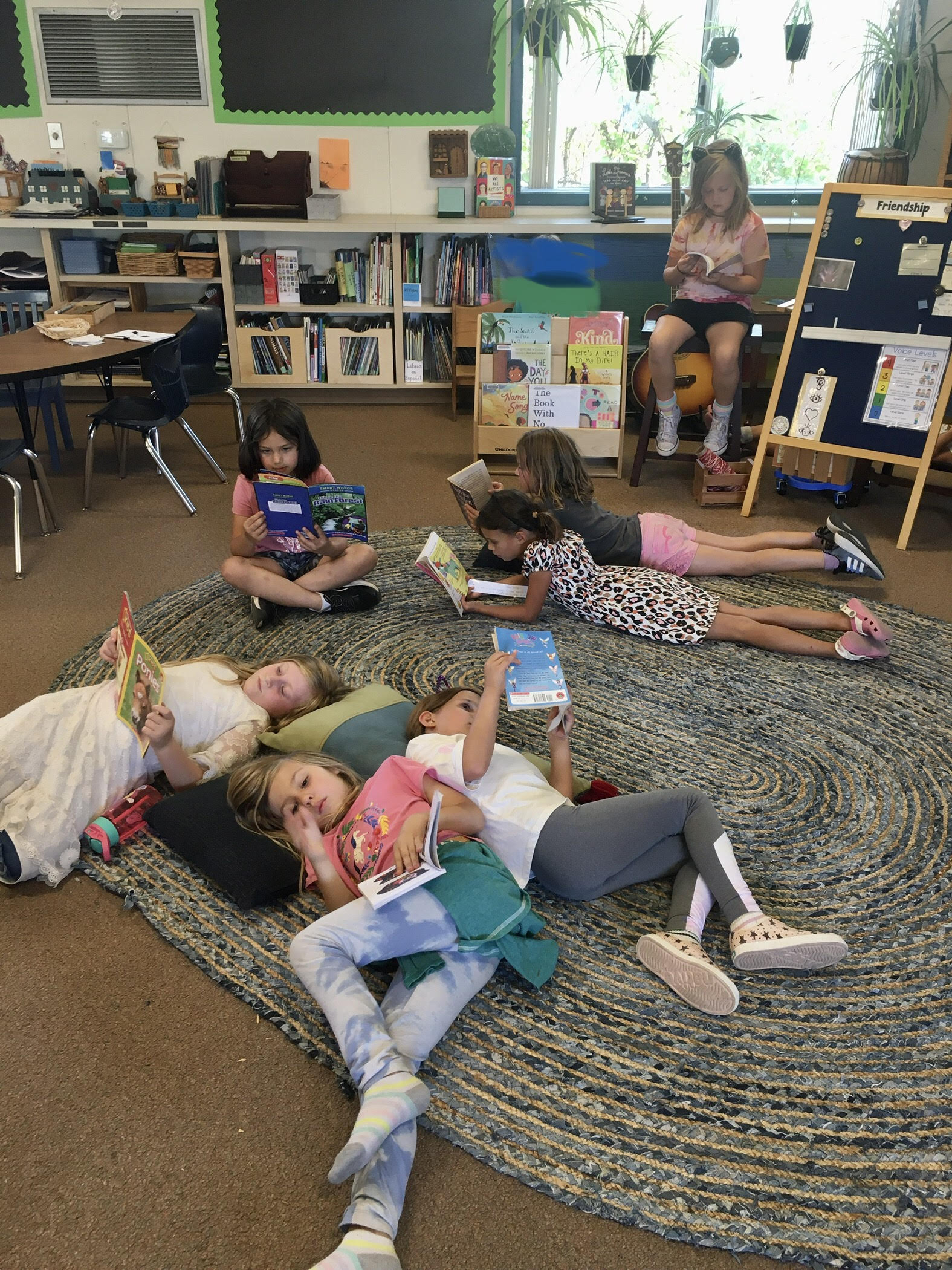 Tuesday News – August 29th

Hello!
Parent Meeting
Please join us on Monday, September 11th at 5:30 for our parent/caregiver meeting!
This is for parents and caregivers only, and there will not be childcare available.
Homework
Homework has begun this week!
I will talk more about this at the parent meeting, but here are some logistics to know regarding this routine:
• Homework is given Monday through Wednesday
• Homework folders come back to school the day after they are given out (in the case of absences, etc, they come back asap!)
• Spelling lists are given at the beginning of the week and are kept AT HOME (students may have a special spot that works for them; the fridge, the wall, a desk, etc. Sometimes their homework might involve their spelling words and they need to know exactly where to find them, and I also I encourage students to look at them daily)
• The homework routine is mainly about students practicing their responsibility and organization.
• It is the students' responsibility to be in charge of their homework folder and bring it back to school. You may give reminders, but the ultimate goal is for them to learn to keep track of it.
• If there is no time in the evening or morning for them to get it done, that's ok! I know families are busy, some days are easier than others to sit down for this task. Just do your best.
• The homework is NOT individualized to each students' needs. Some students love it, some dread it. Some students may think it's easy, some may think it's challenging and need a lot of help. That's ok. Help as much as you are able, and remember that the main goal is for them to turn it in. Please let me know if you have questions about how you might help your child at home.
• Steps for students to remember: Take home folder, look at paper, put name on paper, put paper back in folder, put folder back in backpack, bring folder in backpack to school the next day, turn in homework. (We discussed these steps in class today)
Student Groups
We like to mix it up here in the classroom throughout the day, and so students are grouped for lessons and activities in a few different ways. Last week they were assigned to their Element Groups – Earth, Water, Fire & Air. This week they were assigned to their Celestial Groups – Suns, Moons, & Stars. I invite you to ask your student which groups they are in!
Here's a group working on some art related to our 4 elements….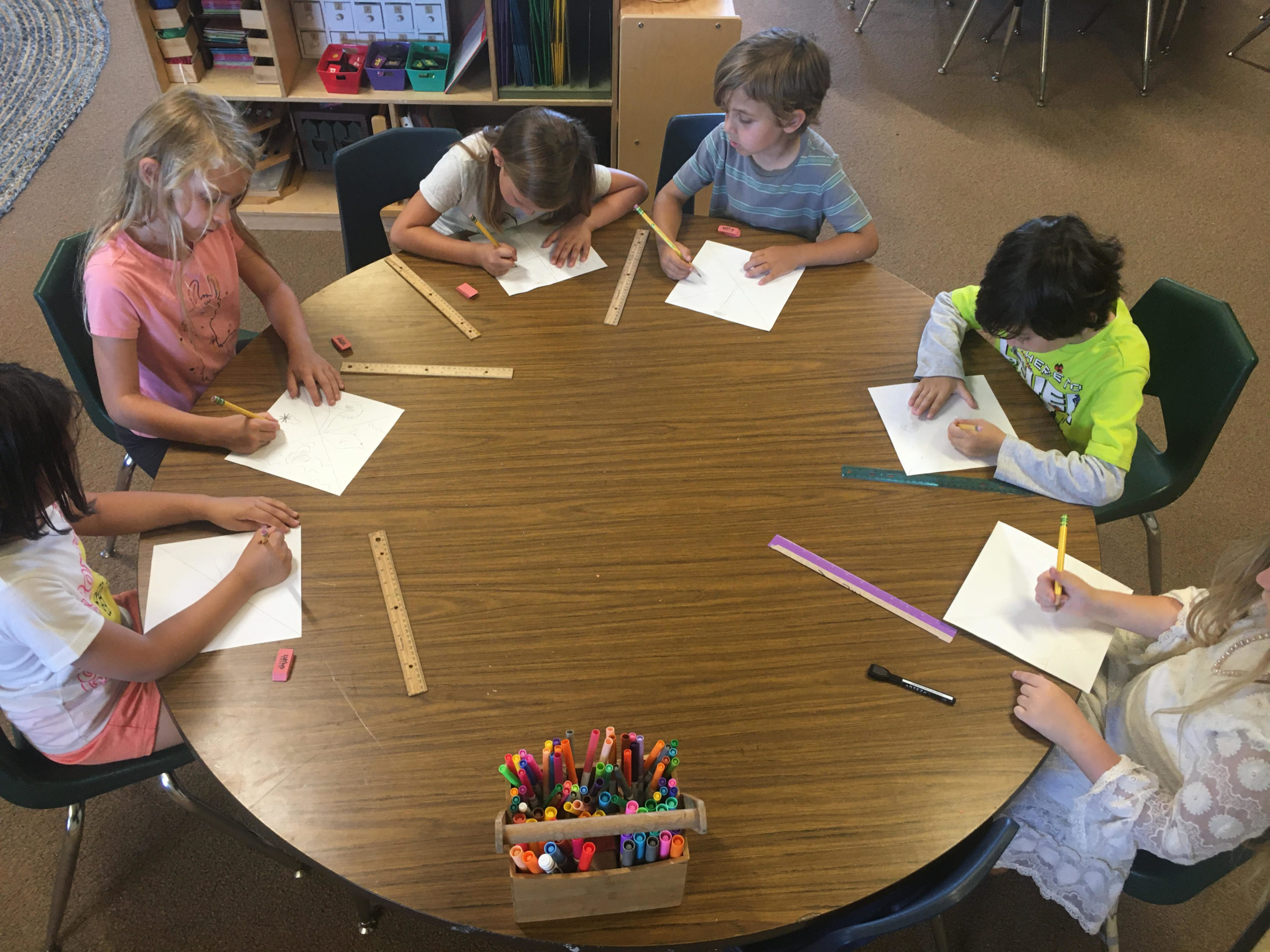 Thank you for reading!
*Miss Kristen*
"The most beautiful thing we can experience is the mysterious.
It is the source of all true art and science."
~Albert Einstein
Tuesday News – August 21st

We've had a great first 5 days of school!
We are all making new friends, learning new classroom routines, and practicing new skills.
Reminder: If you want to volunteer on field trips this year you must attend the mandatory meeting this Thursday the 24th. There are 3 time slots to fit your schedule. Check the Friday Bulletin for more details.
Miss Kristen's Class Parent Meeting – Monday September 11th – 5:30-6:30pm
• You'll hear about a typical school day and have an opportunity to walk through the classroom
• We'll discuss helpful routines at home to help support your student.
• I'll introduce what it means to volunteer in the classroom.
• Bring your questions!
Classroom Support Jobs
If you are able and would like to sign up for a classroom support job, here they are:
• Towel Team – I'm calling it a team because I ask that your student helps out, because I will often forget to send the basket home and they may be better at remembering! This job is best done over the weekend – you'll take the basket of towels home to launder and then bring them back all clean and folded and ready to dry our clean, clean hands.
• Porch Patrol – Our front porch & ramp gets a lot of wear and weather, and therefore dusty and dirty. We spend a lot of time there, eating, working, and playing so it'd be nice for it to be clean. This would include dusting, vacuuming and wiping down the cubbies, sweeping the ramp, and even finding all the little bits of trash that make their way down into the berry garden below. Perhaps a good cleaning every other week or so would do the trick?
• Water Wizard – Just when the students think the water cooler in our classroom is empty and they can't fill their water bottle, voila! I grab the other 5-gallon bottle that has been magically and mysteriously filled by our water wizard and fill it up again. Thank you water wizards, for hauling those heavy things to the classroom from your car, often undetected… we couldn't stay hydrated without you!
• Window Washers – We have lovely views of our courtyard to the east, and open space and birds to the west, we want those views to be clear and clean! Washing the windows once a month should do the trick – which includes the inside window sills which gather dust and critters. This is best done on a Wednesday but any day after school until 4:00 is fine. Please bring your own supplies
You can sign up for Classroom Support jobs here!

Special Request!
We are in need of a handyperson to help us change out the faucet in our classroom sink! If you or someone you know have this kind of skill-set and would be willing to find and install a new faucet, please send me an email. Thanks!
Thank you for reading,
*Miss Kristen*
"The things that make me different
are the things that make me ME."
~Piglet
Tuesday News – August 15th

Welcome to the School Year!
Welcome back to those families returning, and a very warm welcome to the 5 families in our class that are new to our Village this year.
These newsletters will be sent every Tuesday with updates, special dates, requests, information, and photos about what's going on here in our classroom.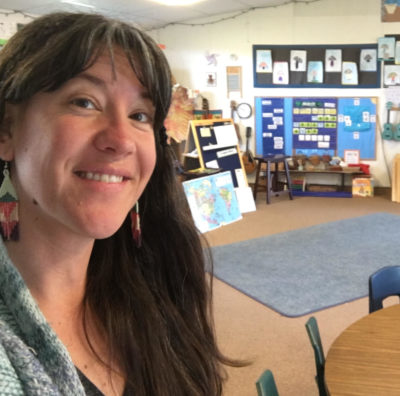 Hi, I'm Miss Kristen!
This will be my 10th year here at Village, and I am excited to start the year alongside old friends and new. I love teaching in a multi-age classroom and helping to facilitate students' academic learning and social and emotional growth.
In my free time I like to sing and make music, go hiking, paddling, or swim in the river… and I love ice cream! 🍦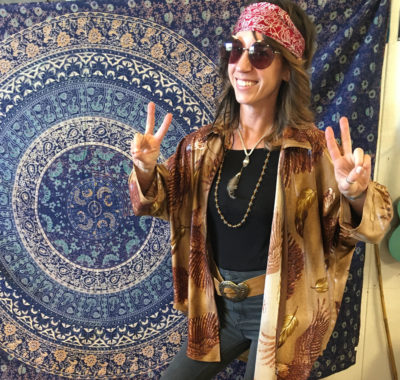 Meet Miss Rachel!
We are pleased to have Miss Rachel as our instructional aid and music teacher!! Rachel has been working with Village students for the past several years teaching music, and we are thrilled to have her helping in our classroom again this year.
Our first day of school is tomorrow, Wednesday, August 16th – 8:45 – 1:15
• If arriving early, students may hang their backpack outside the classroom and put their lunch in their cubby, then head out to play on the blacktop.
• I will blow my whistle to gather our class at the start of school – join us if you are able for our all-school morning circle & spiral dance.
• Students will be excused from class at 1:15 each day this week
• You may pick up your student outside our classroom, otherwise please communicate with me if you would like your student to walk out with someone else (an older sibling, older friend, etc.)


Communication
Thank you in advance for respecting the flow of the school day and my time away from work! Here's what that looks like:
• Please read my Tuesday Newsletters and the Village Friday Bulletin! These are our main modes of communication and contain important details.
• Morning, before school begins, is my time to prepare for the day and is not always a good time to communicate questions or concerns. If you would like to discuss something please send an email first, and we can find a time to meet in person if needed.
• I will check my email mainly before and after school hours. I will not not check or respond to emails on the weekends.
• If there is something that needs to be communicated to me during the school day please call Carolyn or send her a message and she can relay it to me.


Support, Classroom Jobs and Volunteering
We appreciate and need the support from our families during the school year. Support might be on field trips or in the classroom OR behind the scenes:
• Wishlists: I will periodically post a wishlist in my newsletter for items and/or help with tasks.
• Classroom Jobs: Please see next week's newsletter for a classroom job sign-up. These jobs are regular behind-the-scenes tasks that significantly improve the health and cleanliness of our classroom.
• Volunteering**: Volunteering may include driving and/or being a chaperone on a field trip, or leading an activity with students in the classroom. As field trips come up, I will send a request for drivers and chaperones. Beginning in late September I will open up a classroom activities volunteer schedule.
** to volunteer this school year you must attend one of the meetings on August 24th.


Thank you so much for reading!
Here we go, see you tomorrow! 🤗

*Miss Kristen*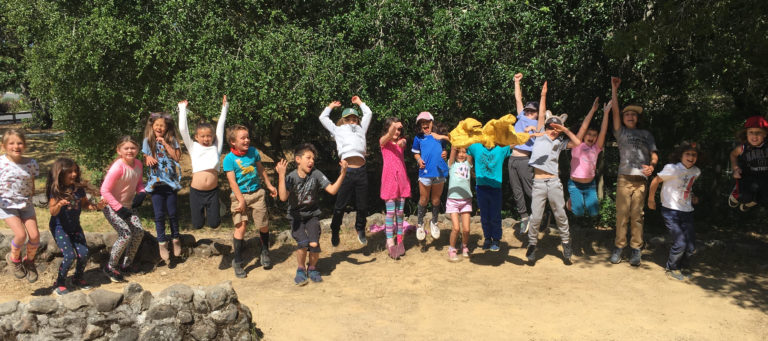 "Far away in the sunshine are my highest aspirations.
I may not reach them, but I can look up and see their beauty, believe in them, and try to follow where they lead."
~Lousia May Alcott